Volunteer language tutors needed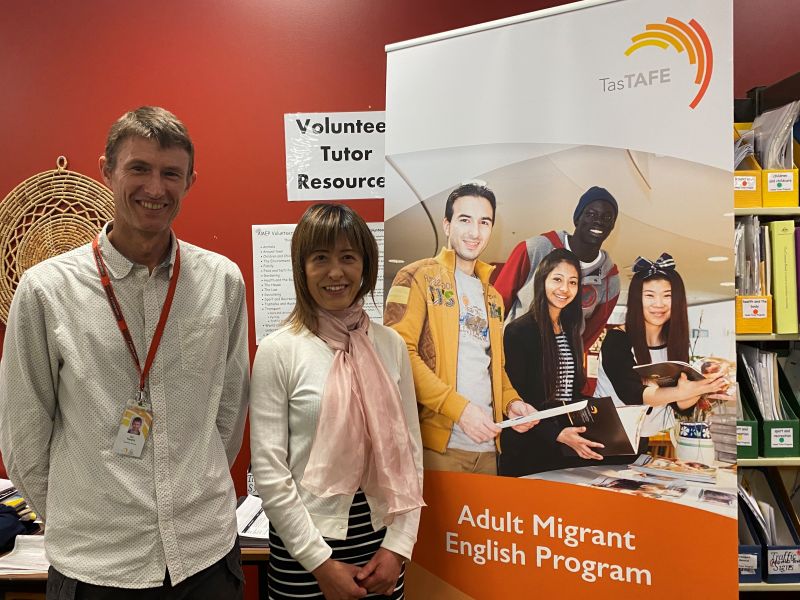 TasTAFE is seeking people with an interest in helping others to become volunteer language tutors for migrants.
TasTAFE trains volunteer home tutors under the Adult Migrant English Program (AMEP), (funded by the Australian Federal Government's Department of Home Affairs). A new training program for would-be tutors begins on 26 April.
Under the program the volunteer tutors visit migrant "students" in their own homes, or in public locations such as libraries or community halls, assisting them to learn English, and establishing important connections.
Many of the migrant students live in Hobart's Northern suburbs, but also in other locations around Hobart.
TasTAFE English Language Services teacher, Ian Hewitt, (pictured) said that while TasTAFE provided on-campus training through AMEP for migrants to learn English, there were many who were unable to attend classes.
"We've had lots of students that can't come to class because they might have health issues, mobility issues or they might have small children at home. A lot of people can't come because they're looking after elderly parents.
"What's really good about this program is that it provides language training, along with settlement information, but it also provides connection to the community. For a lot of people on the home tutor program they're actually stuck at home so it's the connection that is really good as well."
Volunteer Tutor Scheme Administrator, Hiroko Kunimoto (pictured), said volunteer tutors could also play an important part in helping migrants settle into life in a new country.
"This program is perhaps not only about improving language skills. The tutor may also be able to assist in helping them understand cultural differences, some Australian customs and way of living. They become I think, an important connection point to the society the migrants are trying to adjust to and embrace."
Hiroko said volunteer tutors don't need to have any prior teaching experience as all training is provided through a free six-week training course, delivered online (10 hours) and at three two hour, face to face sessions at TasTAFE's Campbell St Campus, Hobart.
"We want people from diverse backgrounds with a genuine interest in this sort of activity. As a volunteer tutor you'll meet new migrants who come from a completely different language and cultural experience. It varies but tutors need to be available for around an hour a week and be happy to visit the student, usually in their home."
Hiroko says many tutors find the experience extremely rewarding.
"I've heard lots of stories about friendships newly formed and tutors really embracing different cultures and experiences. This is a very hand-on experience. Going to someone's home really gives you the first-hand experience of a different culture," Hiroko said.
The next Volunteer Home Tutor training course begins on 26 April 2021. Anyone interested in the training should contact: TasTAFE.Home.Tutor.ELS@tastafe.tas.edu.au for more information.