TasTAFE staff and students recognised at international education awards
Published on: 14 Sep 2021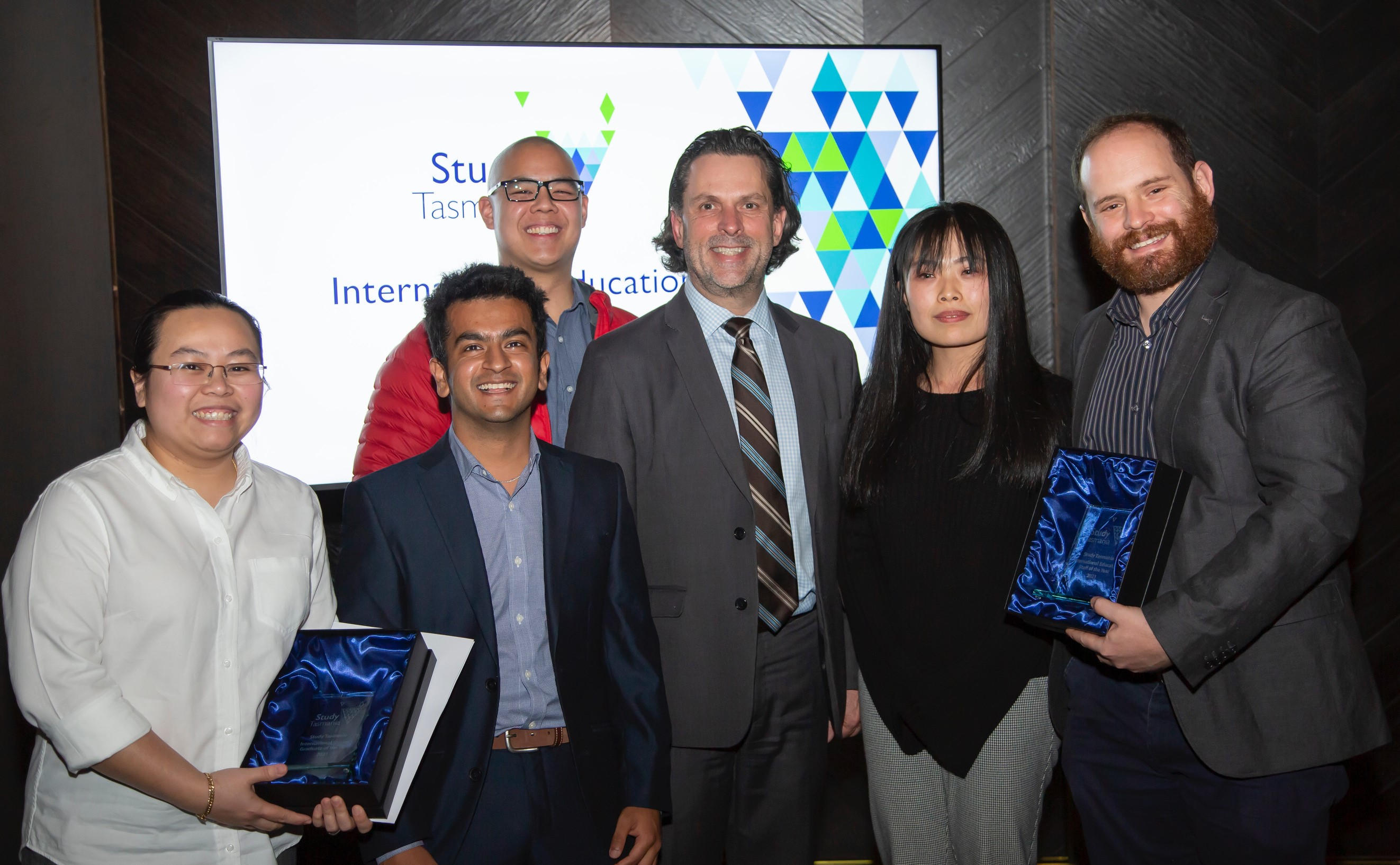 Figure 1. TasTAFE's Study Tasmania International Education Award winners L-R: International Graduate of the Year – Huynh Van Phuong Nguyen (Anny), International Student of the Year for VET – Mandeep Jaiman, TasTAFE International Student Advisor Edgar Fergus Ho, TasTAFE CEO, Grant Dreher and TasTAFE International Student Advisors Angie Wu and James Field.
TasTAFE staff and students have been recognised with three awards at the Study Tasmania International Education Awards announced yesterday (13 September).
The annual event provides an opportunity to celebrate and acknowledge the contribution made by international students, staff members and industry partners to the international education sector and to Tasmania's cultural diversity.
TasTAFE staff and current and former international students were recognised with three awards.
International Education Staff Member of the Year Award - International Student Advisor team, TasTAFE (Angie Wu, James Field and Edgar Fergus Ho)
International Graduate of the Year – Huynh Van Phuong Nguyen (Anny) – TasTAFE Cookery graduate.
International Student of the Year for VET – Mandeep Jaiman – TasTAFE Engineering student
The International Education Staff Member Award is awarded to a staff member, or team, who displays an exceptional commitment to enhance the study and living experience and future aspirations of Tasmanian international students.
The nominator of TasTAFE's International Student Advisor Team describes them as being at the forefront of helping international students through their time in Tasmania, serving as the first point of contact and all-in-one support team for international students at TasTAFE. The team consistently goes above and beyond to support international students from the time they arrive in Tasmania and throughout their time at TasTAFE. They provide mental, emotional and professional support and advice which contributes greatly to the success of TasTAFE's international students.
The International Graduate of the Year Award recognises a graduate for his or her character, service, outstanding contributions and academic achievements.
Winner Anny is a role model for graduate students in Tasmania. As well as being an amazing cookery student while studying at TasTAFE, she has managed to start two businesses in Devonport after completing her qualification. Anny's was nominated for not only her amazing success but also because she gives back to the community by providing fellow international students with job opportunities and work experiences at her restaurants.
International Student of the Year for a VET student is awarded to a VET student who exhibits outstanding academic skills, other talents and achievements to serve as a role model for young people in Tasmania.
Mandeep has achieved a lot through his studies whilst also juggling work, extracurricular and volunteer roles including the State Emergency Service. He continually aims to help other international students and is involved in several community-related projects and roles that advocate for international students.
Congratulations to all our award winners and finalists!