TasTAFE Drysdale cookery student wins national award
Published on: 30 Nov 2021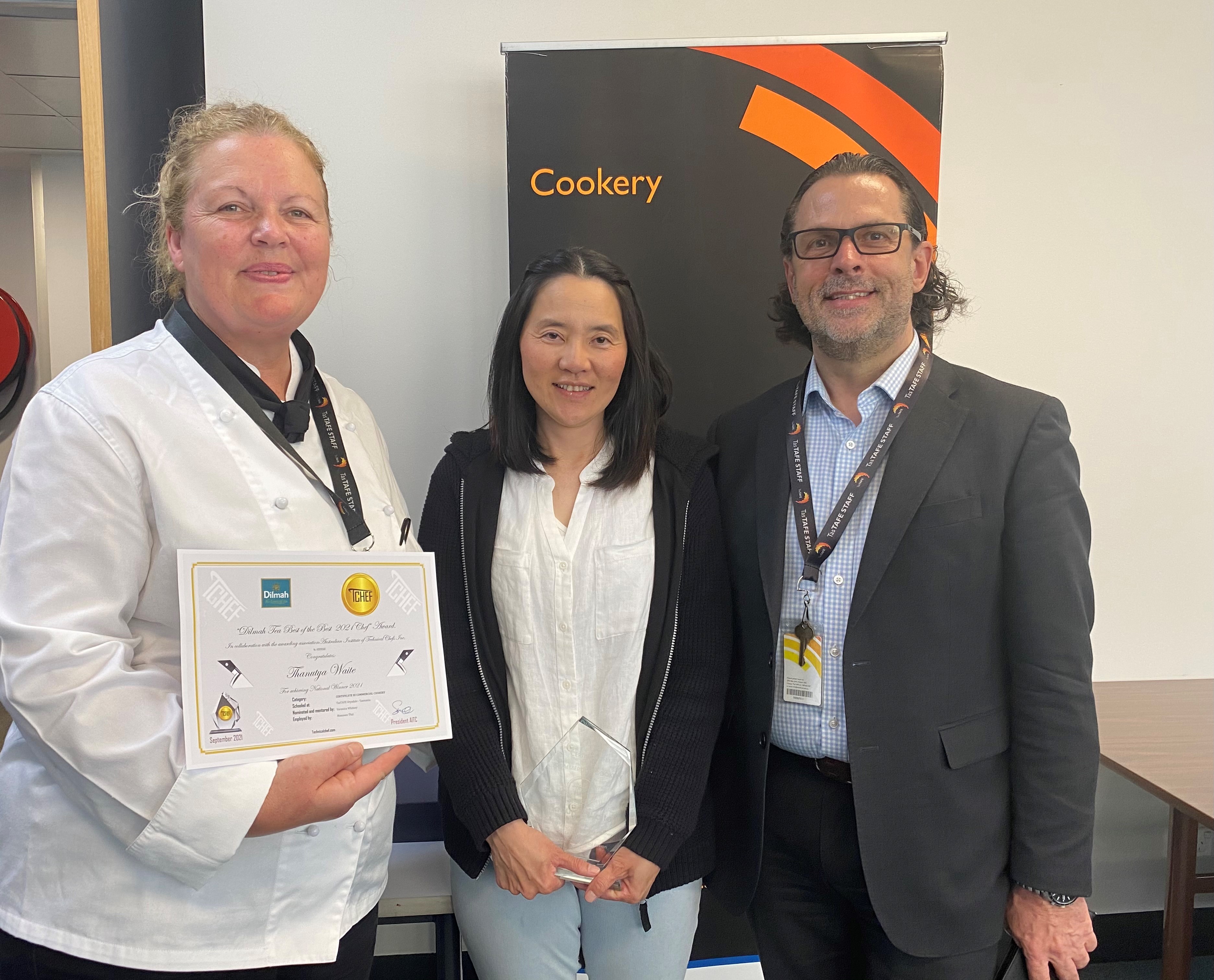 A TasTAFE Drysdale Cookery student has been recognised as an emerging leader in the hospitality industry with a national award.
Thai Veggie Hutt owner, Thanutya (Yaya) Waite, won the Australian Institute of Technical Chefs, Best of the Best Future Chef Award, which recognises emerging potential leaders from students who have successfully completed a Certificate III Commercial Cookery.
Yaya (pictured with her Drysdale teacher, Veronica Whitney, and TasTAFE CEO, Grant Dreher) says the support she received from TasTAFE Drysdale's teachers helped give her confidence in her cooking and learn new skills.
Yaya completed her Certificate III at Drysdale in October 2020 and was nominated for the award by her cookery teacher Veronica Whitney. She was interviewed by a panel of judges via Zoom, impressing them with her passion and determination and her ability to apply techniques she learnt at Drysdale to her Thai cooking.
Presenting Yaya with her trophy on 26 November, TasTAFE CEO, Grant Dreher said she was an extremely deserving winner.
"Yaya pursued her qualification whilst running Thai Veggie Hutt and looking after her young family. She showed commitment, dedication and enthusiasm and excelled in her training. Her achievements are even more impressive in the fact that English is Yaya's second language."
"I'd like to congratulate Yaya along with all of the Drysdale teachers who have helped contribute to her success," Mr Dreher said.
Yaya was born in Thailand and worked in the training department of a large food chain where part of her job was to test food and ensure it met the company's standards. But it wasn't until she moved to Australia in 2006 that she began cooking for a living, setting up Hobart's Thai Veggie Hutt.
Yaya knew she could trust her taste but wanted to learn more about the techniques of cooking.
"I was worried about the idea of going back to "school" at first, but my staff were studying cooking at Drysdale and I saw them improving and I thought ok, there's nothing to be scared of."
"Every day I went to Drysdale was a happy day. I was really excited to go and didn't want to miss a minute. I always wondered what is my teacher going to show me today?"
"At first, I was a bit scared and unsure about my level, but the teachers gave me confidence. They taught me that if I was unsure, I just needed to ask. All of the teachers showed us a lot of different techniques and skills and they were always interested in what you were doing as well. They taught me to be proud of my career."
Yaya says Drysdale's training also helped her better understand how to cater for a range of dietary requirements, apply a range of new cooking techniques at Thai Veggie Hutt and speak the same "language of cooking" as her employees.
"Drysdale has given me a very firm foundation and confidence. When you know the foundations, you don't need to worry. It's a very big thing that I can apply to my whole way of cooking," Yaya said.
"I'd like to thank my wonderful teachers at Drysdale for helping me achieve my qualification and learn many new skills," Yaya said.