TasTAFE Drysdale apprentice chef wins silver at national competition
Published on: 06 Dec 2021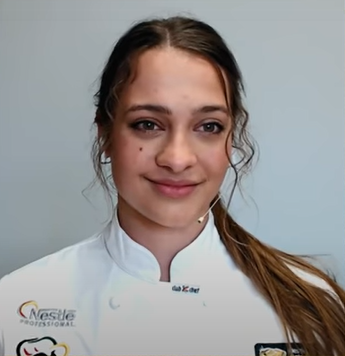 A TasTAFE Drysdale student has won a silver medal in a national competition for apprentice chefs.
Semra Peach, who works at Delish Fine Foods in Burnie, won a silver medal in the Nestle Golden Chef's Hat, Golden Chef of the Year award, announced in a virtual ceremony on 30 November.
Semra is a third year apprentice undertaking a Certificate III in Commercial Cookery at Drysdale Devonport. She represented Tasmania at the national competitions after winning the Tasmanian division of the awards in July. It was her first competition.
The competition offers participants the opportunity to make connections, elevate their skills and take their careers to the next level, and is supported by Nestle and the Australian Culinary Federation (ACF).
For the national competitions apprentice chefs from throughout Australia and New Zealand were asked to prepare a three-course menu. Due to COVID restrictions, they each cooked the dishes in their home-state with a judge present in each venue.
Announcing Semra's silver medal at the virtual ceremony, Australian Culinary Federation National President, Karen Doyle said:
"Including local produce from native foraged ingredients was a central theme in Semra's menu, which all came together to produce some really unique flavours."
Speaking as part of the presentation Semra said:
"My love for unusual food inspires the creative process. By working with these foods I can provide others with the emotional connections with food that I enjoy."
Semra was supported by TasTAFE Drysdale's cookery team, in particular teacher, Matthew Fraser, who mentored her in the lead up to the state and national competitions.