TasTAFE cookery apprentice dishes up silver medal
Published on: 30 Sep 2022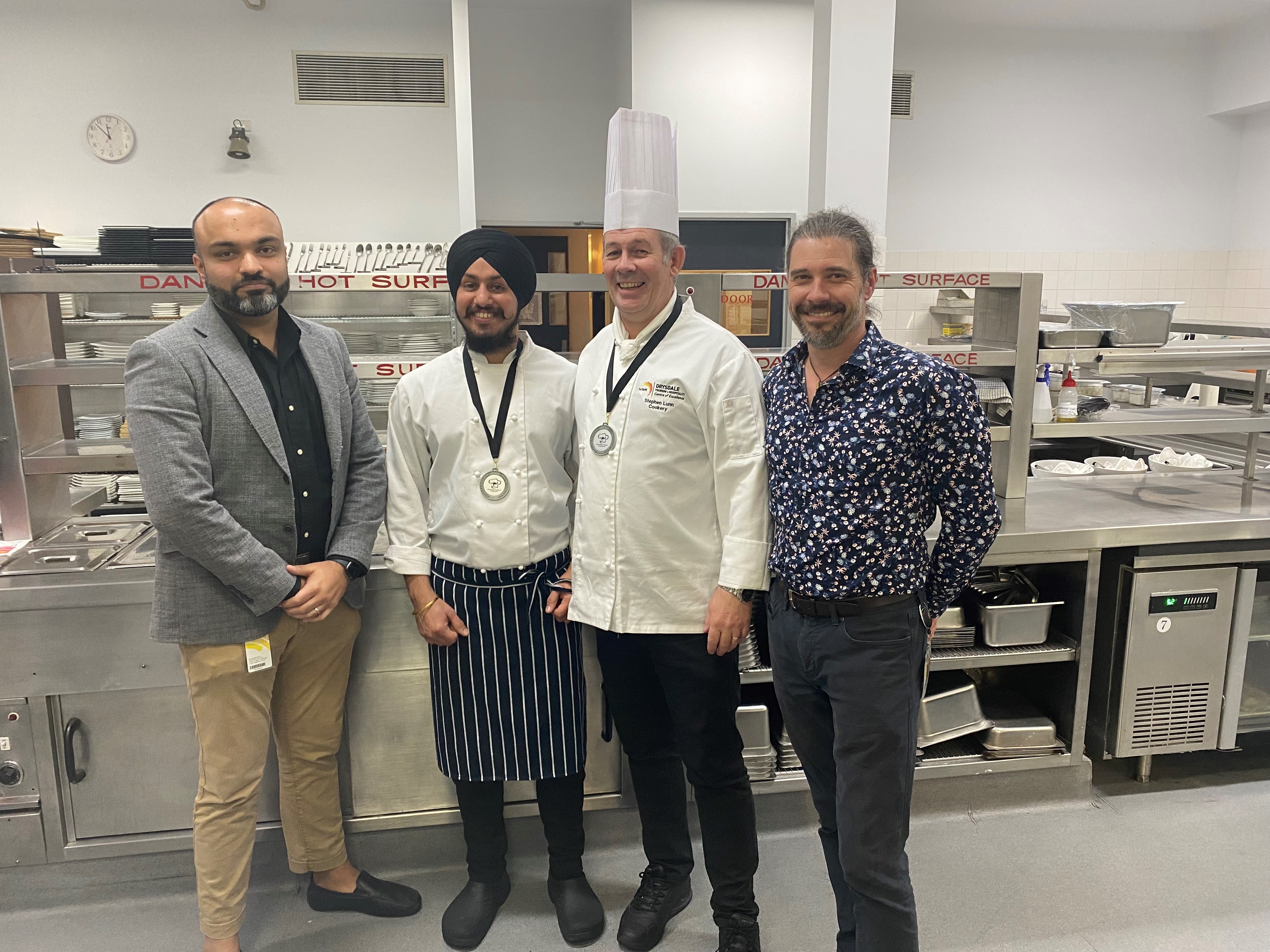 TasTAFE Drysdale cookery apprentice Lovepreet Singh recently claimed the silver medal at the Australian Culinary Federation (ACF) National Apprentice Competition 2022 Finals, hosted at the Fine Foods Australia Exhibition.
Lovepreet was one of four TasTAFE representatives who took home medals, joining Eric Trung who won a silver medal for first year apprentices in the National Apprentice Competition, Semra Peach who competed in the Nestle Golden Chefs Hat and won three silver medals (entrée, main and dessert) as well as being voted the best at using Nestle products, and TasTAFE Teacher Stephen Lunn who won a silver medal in the Tabasco Team Challenge.
Lovepreet, whose yogurt kebab entrée and chicken valentine main course won him the prize, said the award was a surprise to him.
"I was not expecting much. I wasn't expecting any medals. What I was expecting was if I cook well, you get good things. A wise man once said 'you put good things in food, you get good things out of it'. All the hard work pays off."
In the category of Culinary Student, Lovepreet had two hours to cook an entrée and main course in a competition that challenged competitors to use a whole chicken across the two dishes.
Lovepreet missed out on competing in a similar competition in 2020 after it was cancelled due to COVID-19, and wasn't going to let this opportunity slip despite the pressure of competing.
"There were a lot of loads on your shoulder but you need to perform anyhow. When a person focuses on you, when all eyes are on you, it's stressful."
TasTAFE's Cookery Education Manager, Varun Khetarpal, was pleased to see Lovepreet's hard work rewarded.
"We are very excited for Lovepreet. He is a hard-working student and is a quick learner. He also helps other students in the class when required. After winning the regional competition earlier in the year, we were very excited for Lovepreet to participate at national level. Him winning the silver medal showcases his passion for cooking and skills he has developed."
Lovepreet hails from Kolkata, India and previously worked as a chef in hotels there. He was inspired to continue in the industry after a colleague told him to keep cooking. "You cook the food, because like some people have magic in their hand, you have the taste in your hand' he was told.
Since moving to Tasmania, Lovepreet is very happy with his decision to continue his education at TasTAFE.
"I love it here (at TasTAFE). TasTAFE is a very big thing for me, sending me to Melbourne is a very big thing, That's the biggest achievement I've had, the second biggest achievement I've had is being admitted into TasTAFE."
Lovepreet is very grateful for the expert tutelage he receives at Drysdale, and Mr Khertarpal said that Lovepreet's award is also great recognition for his teachers.
"The recognition that Lovepreet and other students have received is a testament to the high quality of teaching and knowledge that students receive at TasTAFE. Our teachers work closely with students and provide invaluable support, so students can excel in their field of study."
While Lovepreet is very excited with his silver medal, he says this is only the beginning of his culinary journey in Tasmania.
"With this, now I get more power to learn more. Learn new things, things which I don't know, things out of the box… The medal is motivation. People don't stop when they get a medal, they achieve more and more."