TasTAFE celebrates 75 years of AMEP in Australia
Published on: 20 Nov 2023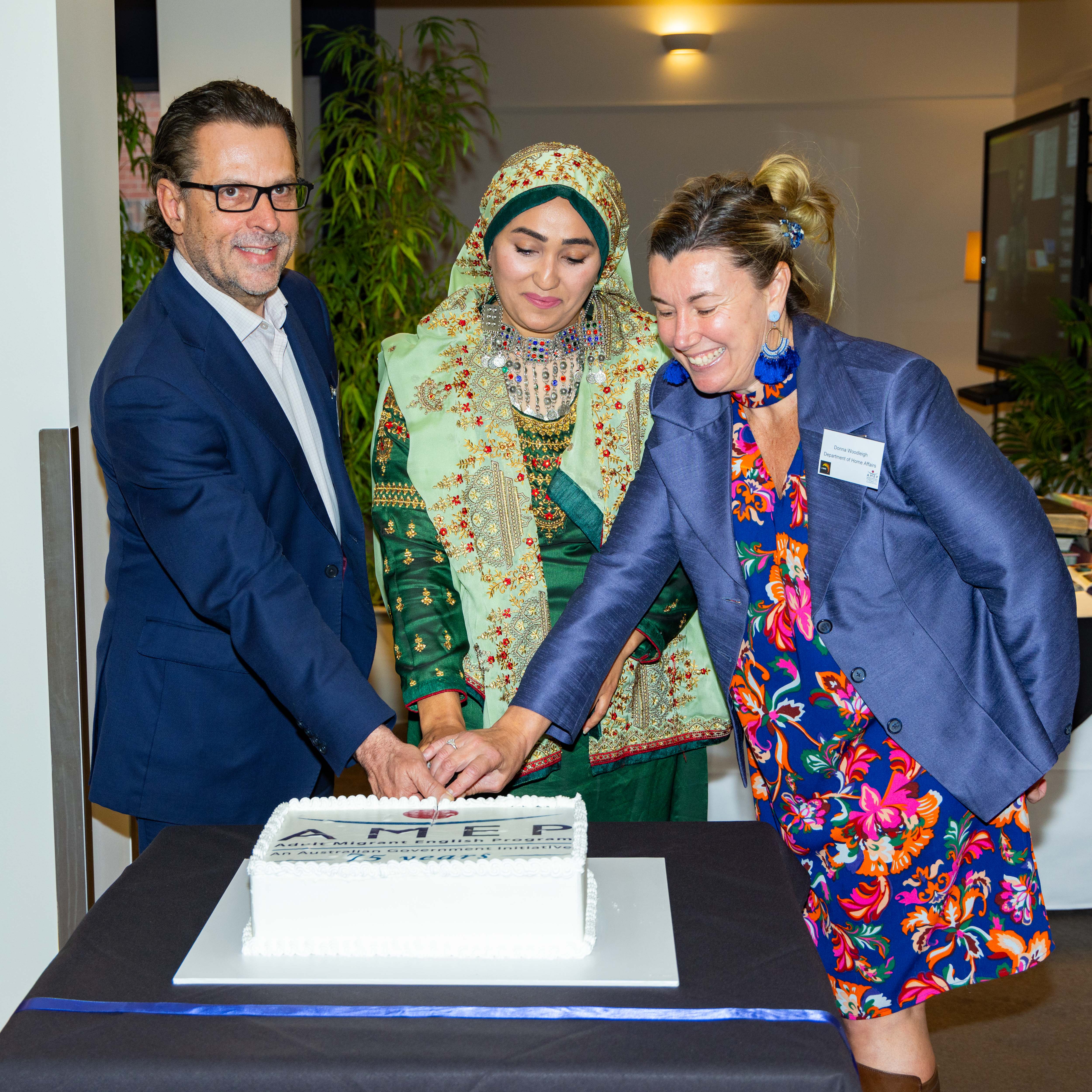 TasTAFE celebrated the life-changing nature of the Adult Migrant English Program (AMEP) at a function at Drysdale Hobart on 1 November.
Organised to mark 75 years of AMEP in Australia, the event brought together current and former TasTAFE staff, volunteers and supporters of the program.
Studying in the AMEP gives migrants and humanitarian entrants the opportunity to improve their English skills and knowledge about Australian cultures and society while also developing work or further study pathways.
TasTAFE has been a proud AMEP provider for more than 30 years and has provided AMEP to an estimated 12,000 students. In the 2022-2023 financial year TasTAFE enrolled 576 students in the AMEP. Those students came from 51 countries and spoke 60 different languages.
The recent celebration included speeches from Department of Home Affairs Assistant Director Community Engagement, Tasmania, Donna Woodleigh and former TasTAFE AMEP Education Manager, Kate Elliott along with performances from members of the Karen choir, made up of current and former AMEP students and a dance from Uzbekistan performed by current AMEP students Hajare.
TasTAFE CEO Grant, Dreher, Donna Woodleigh and Hajare cut an AMEP 75th anniversary cake to mark the occasion.
A panel of those directly involved with AMEP also shared their insights into the importance of the program.
TasTAFE teacher Ian Hewitt has been an AMEP teacher for more than 19 years. He said giving his students confidence and new opportunities is one of the most rewarding aspects of his involvement with AMEP.
"Imagine if you had to live life in another country without knowing the language. With AMEP people come here, they learn about the language, they learn about the culture, they make friends in the same situation, often lifelong friends, and then you have employment programs that give them workplace training and possibly get them future employment, it's a life-changing program for people," Ian said.
Former AMEP student Heetham Hekmat said the AMEP program had started him onto a successful study and career path.
When Heetham arrived in Tasmania in 2012 he spoke only two words of English. Progressing through the AMEP he learnt English and has since gone on to complete eight certificates and a diploma. He is now a community service worker and is at university studying to become a social worker.
"I think the one thing was it instilled so much confidence in me," Heetham said.
AMEP also includes a Volunteer Language Tutor Program where volunteers in the community are trained by TasTAFE to provide extra tutoring for people learning English.
Volunteer tutor Sharn Davies has worked with 9 students through the program and said she gets as much from the program as her students do.
"I'm always recommending it to others. It's a two-way process. You get so much out of it as a volunteer helping someone to learn English and assimilate into Tasmanian life. But you also learn so much about another culture – the difficulties refugees face in order to migrate to Australia, and they often also become a friend so it's wonderful."
Former AMEP Education Manager, Kate Elliott, thanked current and former TasTAFE staff and volunteers for their contribution to AMEP over the years.
"The success of AMEP at TasTAFE is due to the dedication of staff, both teaching and support, and the many volunteers who have dedicated their time over many years."
AMEP is funded by the Australian Government Department of Home Affairs.