TasTAFE carpentry apprentice tests his skills on the national stage
Published on: 27 Aug 2021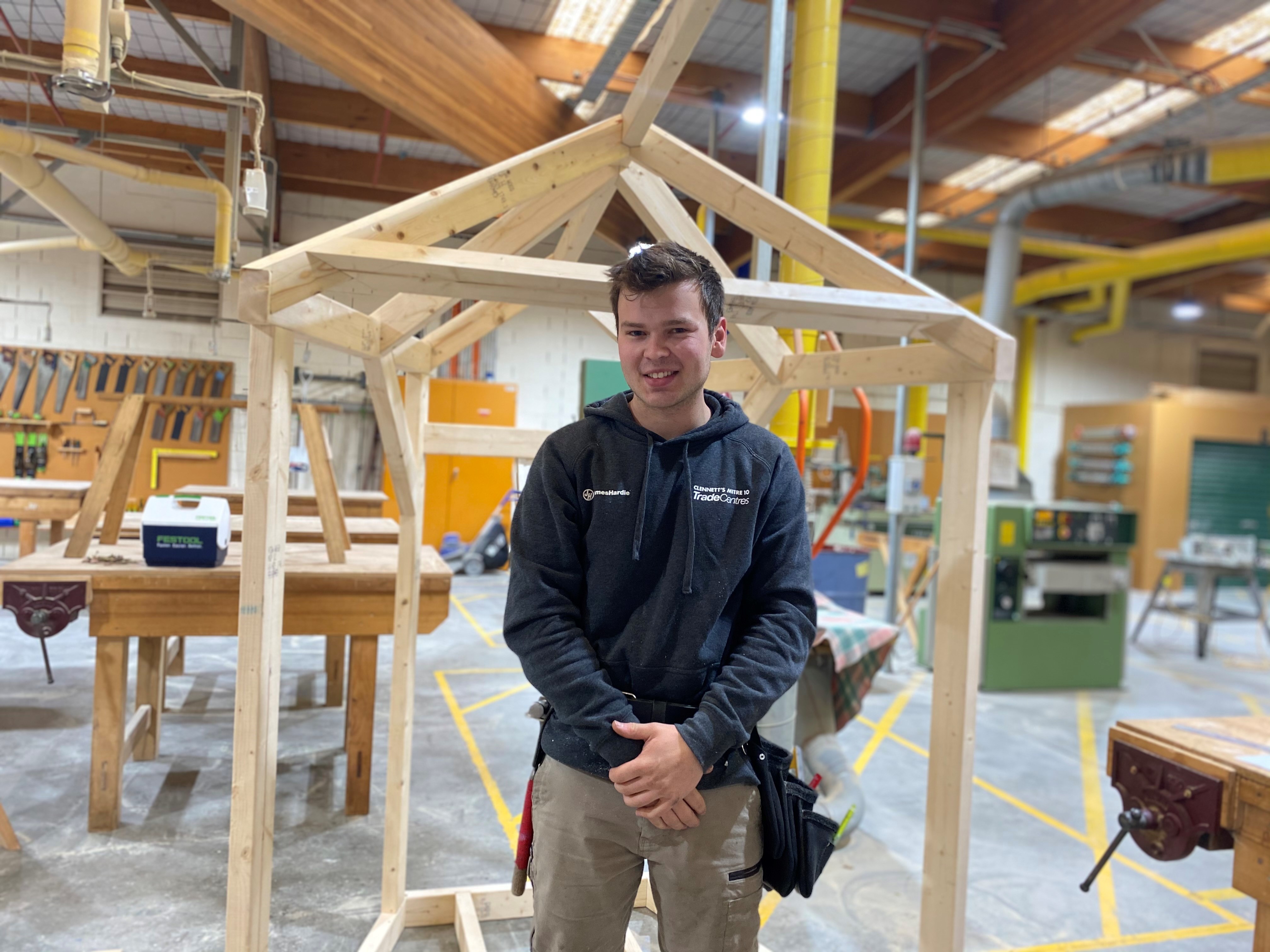 Tasmania's WorkdSkills Carpentry competitor, Ben James, knew from a young age that he wanted to be a carpenter.
"I was always making projects as a child. Then as I went through high school, I was into woodworking heavily and then at college even further, and in some cases, I'd spend my lunchtimes working on projects."
Ben did his first work-placement with Mak Builders in Hobart and knew that carpentry was the job for him. He's now employed with the company as an apprentice and loves it.
Ben is currently in Perth, WA competing in the WorldSkills National Championships as part of an eight-strong Tasmanian team of apprentices and former apprentices, all trained at TasTAFE.
He was selected for the team after winning the regional carpentry competitions with the highest ever score of 98 out of a possible 100 points.
"It was my TasTAFE teachers, Paul Vines and Glenn Robinson, who urged me into the regional WorldSkills competition - I didn't know it was a thing. They said "we're thinking you could do well in this."
"I won that competition with a score of 98 out of 100. And I thought, 'Where did I lose those two points? I'll do it again so I can get it.' I was happy with that obviously. I shocked myself really, and I thought I wonder how I'd go nationally?"
Ben is now finding out, and is into the second competition day of Australia's biggest skills competitions with a project to build a small octagonal gazebo-type structure.
Carpentry competitors were given the main details of the project before the competitions and Ben did plenty of practice, building the project four times, three in the TasTAFE workshops and once at home. The project they are given in the actual competition then changes by 30% so that competitors have to think on their feet.
"We have two days to do it and it's all about being able to draw two-dimensionally and build three dimensionally. It's quite a complicated project."
The Tasmanian and WA teams are able to compete at the National Championships on-site in WA, with competitors from other states competing remotely at various locations in their home states due to the evolving COVID-19 situation.
Ben says he had plenty of help in his preparation for WorldSkills nationals with support from his employer, TasTAFE teachers and WorldSkills Tasmanian team leaders Rachel Sullivan and Matt Barratt.
"Matt Barratt and Rachel Sullivan have just been extraordinary. I just can't believe how much effort they have put in to get us all where we need to be, not in our skill, but in our mentality. Their lives are extremely busy, but they find the time to check up on us and arrange meetings with us all, it's excellent."
Ben says his favourite thing about Carpentry is being able to make plans on a page come to life.
"I get a lot of satisfaction when I draw something in two dimensions and that gives me everything I need to build it in three dimensions. It's satisfying when you make a project. I recently built my own house. To stand back and go wow, I've put 12,000 hours into it in my own spare time and now I have a house. Not many people can do that."