TasTAFE and University of Tasmania collaborate to support agriculture
Published on: 30 May 2022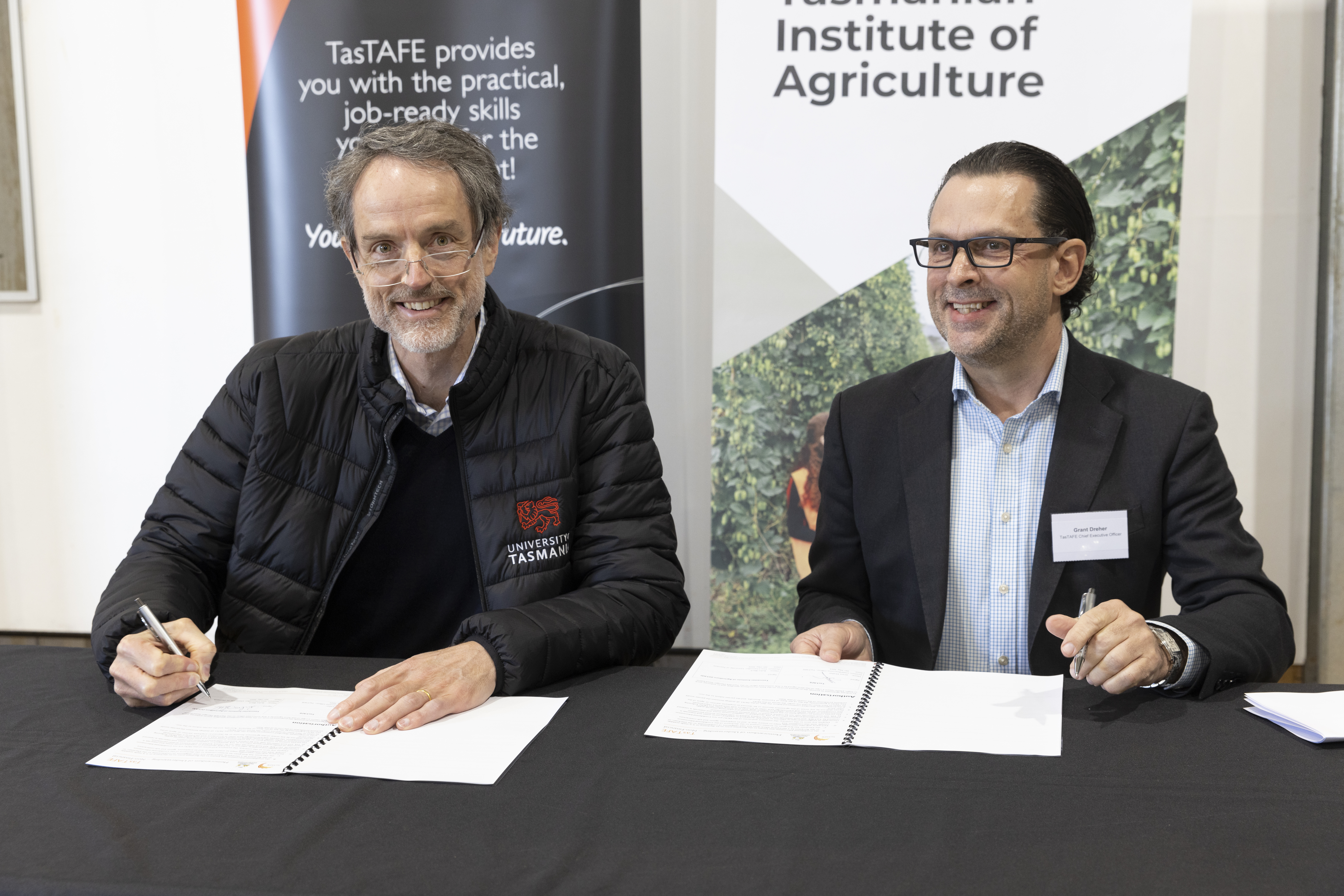 The University of Tasmania and TasTAFE are working together to better serve agriculture in Tasmania, helping the industry create more jobs and more value for the State.
On 20 May, TasTAFE CEO Grant Dreher and University of Tasmania Vice Chancellor, Professor Rufus Black, signed a Memorandum of Understanding that will see the two organisations collaborate on agricultural education and training pathways, as well as sharing infrastructure, resources, knowledge and data.
TasTAFE CEO, Grant Dreher, said, "Through this partnership we can explore opportunities for Tasmanian Institute of Agriculture (TIA) and TasTAFE students to interact more easily, be exposed to more farming sites and systems, and recognise the benefits of both tertiary and vocational pathways. The aim is to help build a well-rounded agricultural workforce with a range of skills,"
Mr Dreher said the $5 million Agricultural Training Centre of Excellence, now under construction at TasTAFE's Freer Farm in Burnie would enhance training opportunities for agriculture students and TasTAFE's education and industry partners in the North-West.
TIA Director Professor Mike Rose said the Agricultural Research and Training Partnership would support Tasmania's critical agricultural industry as it works to increase its farm gate value to $10 billion by 2050.
Through the Partnership, TasTAFE and the Tasmanian Institute of Agriculture (TIA) TasTAFE will coordinate and align their strengths in North-West Tasmania. TIA's Dairy Research Facility at Elliott will focus on dairy and pasture research, TIA's Vegetable Research Facility at Forthside will focus on production horticulture, and TasTAFE's new Agricultural Training Centre of Excellence at Freer Farm will focus on beef and protected horticulture.
"This will improve access to real world, on-farm data for students and industry," Professor Rose said.
"Our upgraded research farms, together with the developments at Freer Farm, will support many of the region's most important agricultural and horticultural enterprises."
The MOU supports the broader goals of the newly formed Tasmanian Agricultural Education and Training Partnership (TAETP) of which TasTAFE and TIA are members.