TasTAFE and Keystone Tasmania supporting growth in building and construction
Published on: 01 Jun 2022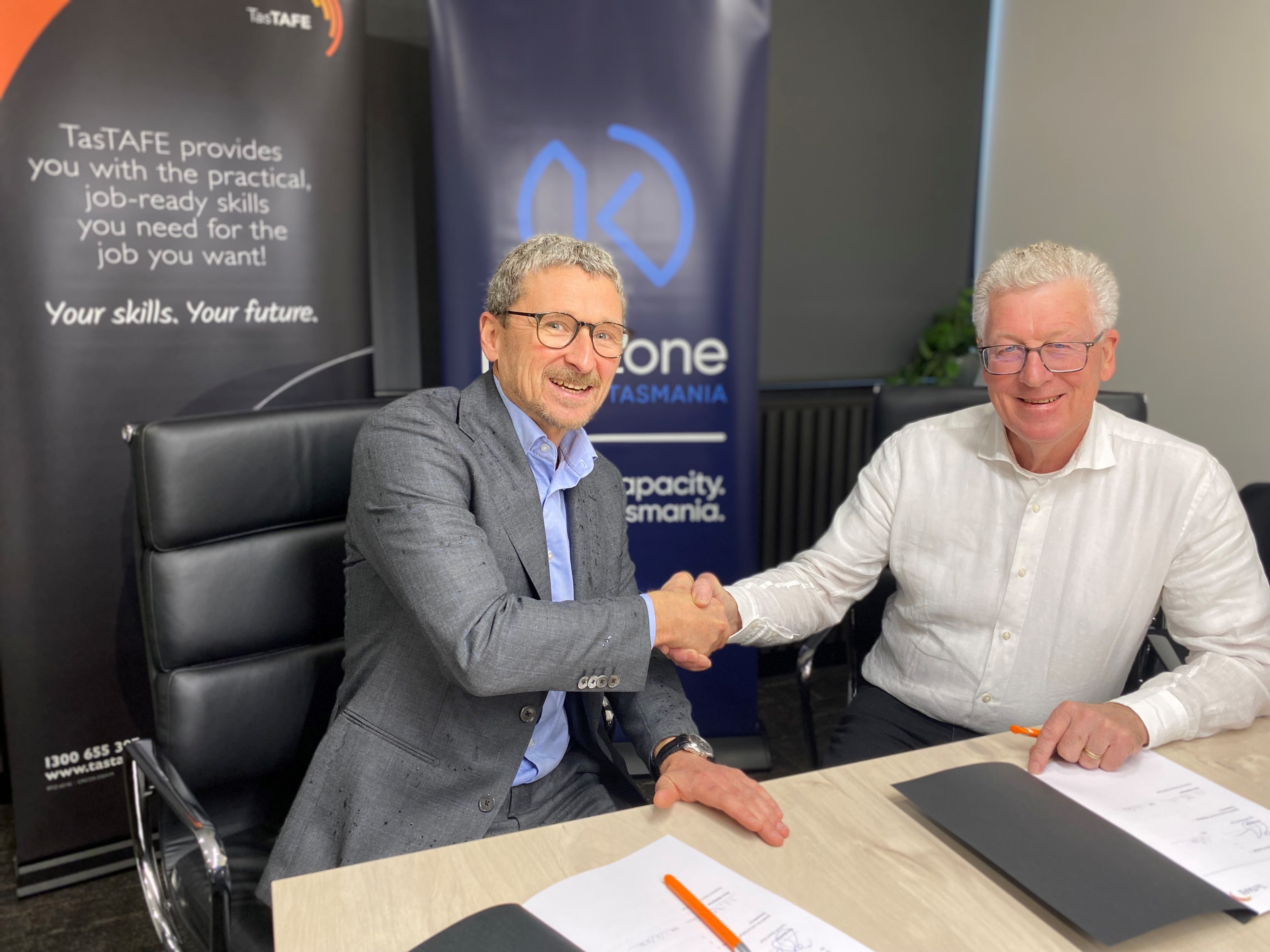 Keystone Tasmania and TasTAFE are joining forces to support growth in Tasmania's building and construction industry.
The two organisations today signed a Memorandum of Understanding (MOU) to continue to help support the sector with a skilled workforce now and in the future.
(Pictured are TasTAFE Board Chair, Tim Gardner and Keystone Tasmania Board Chair, Norm McIlfatrick).
The MOU details a collaborative approach to ensuring TasTAFE's training is industry-connected; promoting apprenticeships and careers in building and construction, and information sharing to inform training priorities and workforce planning.
The organisations will also jointly encourage more industry professionals to be involved in the formal training of apprentices and, in some cases, become building and construction teachers at TasTAFE.
Keystone Tasmania CEO, Dr Karin Mathison, said the MOU reflects the joint commitment to collaboration between the two organisations.
"Tasmania's building industry workforce will need different skills and training to keep pace with the changing needs of employers, industry, the economy and the community. We're proud to be supporting TasTAFE to future-proof the industry," Dr Mathison said.
"We want to ensure training providers are truly demand-driven by quality evidence and accurate forecasting. That's why Keystone Tasmania is investing in data collection and labour market modelling to inform training delivery by important organisations such as TasTAFE. This MOU commits our organisations to a collaborative approach that will better target the delivery and content of crucial qualifications," Dr Mathison said.
TasTAFE CEO, Grant Dreher said the MOU cemented an already positive working relationship between TasTAFE and Keystone Tasmania.
"As TasTAFE looks to the future, we want to be able to deliver innovative, industry-relevant training in the occupations and regions where there will be jobs," Mr Dreher said.
"By working with Keystone Tasmania, we can plan our training to align with future workforce supply and demand and be better connected with what industry needs.
"With strong growth in the construction sector driving increased demand for our apprentice training, we will not only need to recruit more industry professionals to become TasTAFE building and construction teachers, but also reimagine our delivery models to be able to scale up to meet demand. It's fantastic to have support from Keystone Tasmania in encouraging more industry professionals to consider sharing their knowledge skills with us and the next generation of tradespeople.
"We look forward to continuing working with Keystone Tasmania so that we can provide the right training to support Tasmania's building and construction sector," Mr Dreher said.
TasTAFE is Tasmania's largest registered training provider and currently delivers the majority of Certificate III apprentice qualifications in the Tasmanian building and construction industry, across all regions of the state.
Keystone Tasmania is the peak organisation facilitating workforce development in the Tasmanian building and construction industry. A strategic priority for the organisation is the promotion and support of long-term workforce planning across all sectors of industry.