Supporting women in electrotechnology
Published on: 24 Jun 2022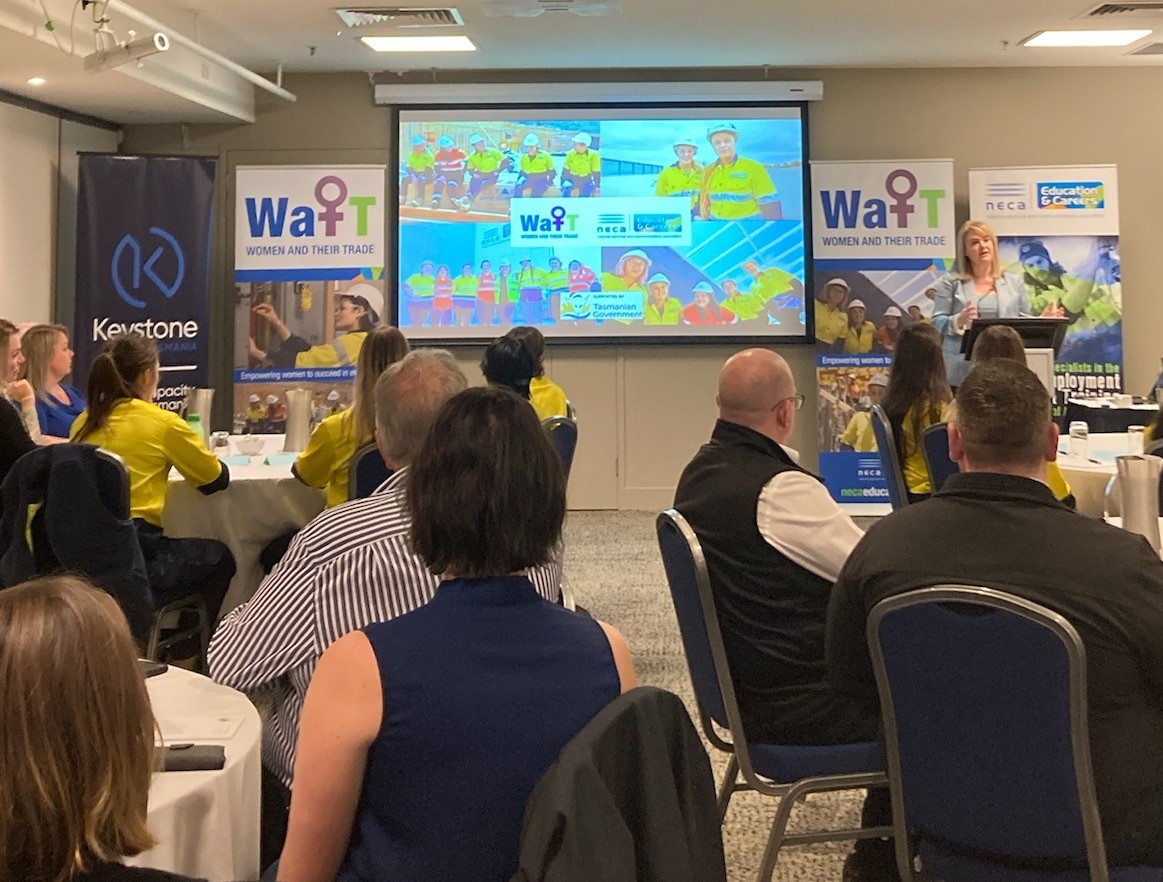 TasTAFE is proud to be part of an initiative designed to support women working in electrotechnology in Tasmania.
National Electrical and Communications Association (NECA) Education and Careers received funding through the Communities Tasmania, Supporting Women to Succeed grant program in 2021 to support delivery of their Women and their Trade (WAtT) initiative in Tasmania.
TasTAFE sits on the WatT project steering committee in Tasmania, providing advice and supporting NECA and their team with this exciting project.
As part of the initiative, NECA recently facilitated a professional development workshop with 13 current electrical apprentices– all of whom are currently completing their Certificate III in Electrotechnology at TasTAFE.
The workshop focused on a range of topics including mental health first aid, work/life balance, resilience, self-empowerment and how to have crucial conversations.
Keystone Tasmania, CEO, Dr Karin Mathison, spoke to the group and talked about the 'Be part of building something big' campaign for the Tasmanian building and construction industry.
NECA General Manager, Careers – Tasmania, Gary Vidler, said NECA believed that women in trade positions are under-represented not only in Tasmania but nationally.
"We believe that tradeswomen are able to make a positive contribution as part of the labour mix. We are focused on providing information on what the electrical industry is all about and how broad career opportunities can be, and the fact that there are trade opportunities for females. Our program is designed so that they can make informed decisions and be very much on a level playing field so that when apprentice opportunities arise, they can put their best foot forward."
"TasTAFE, as our registered training provider for electrical in Tasmania, is able to deliver much needed technical training, both theory and practical, to support what skills are learnt on the job," Mr Vidler said.
TasTAFE Manager Industry Relationships and Business Growth, Matt Dance said TasTAFE will continue to work collaboratively with NECA Education and Careers through this project and other related initiatives, noting the significant demand for a highly trained and skilled workforce across the Tasmanian trade sectors.