NECA get close look at new Centre of Excellence
Published on: 05 Jul 2022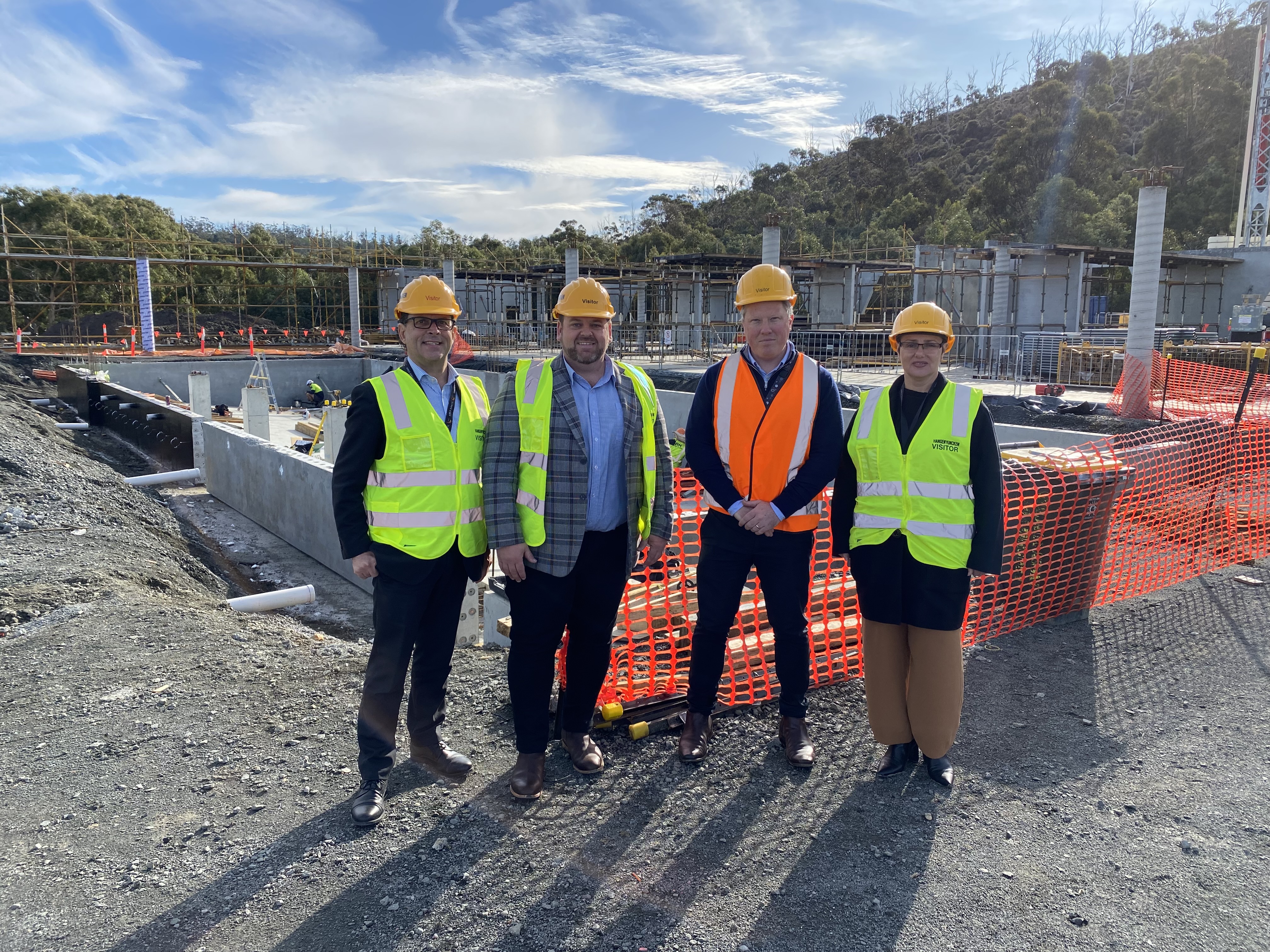 As construction on the Water and Energy Trades Centre of Excellence (WET Centre) progresses quickly, TasTAFE is continuing to engage industry partners to ensure the facility will give apprentices access to modern equipment and an industry-authentic learning experience.
The WET Centre will offer state of the art facilities with a structural design and learning spaces that are flexible and able to be reconfigured as needs change. It will host TasTAFE's southern-based plumbing, gas, refrigeration, air conditioning and electrotechnology students.
The Centre is being developed in collaboration with industry like the National Electrical and Communications Association (NECA), who were part of the steering committee that lobbied for the Centre to be built.
NECA State Manager - Government Relations and Member Engagement, Ben Shaw recently got a close look at the progress of the construction of TasTAFE's new Water and Energy Trades Centre of Excellence (WET Centre).
"We're happy and excited that there's been investment in electrotechnology training in Tasmania. It's been quite some time since there's been the level of investment that we're seeing today." Shaw said.
At the tour, Ben was joined by TasTAFE's CEO Grant Dreher, Director Future Students and Industry, Fiona Le Gassick, and Manager Industry Relationships & Business Growth, Matthew Dance.
"We will continue to work closely with NECA and NECA Education & Careers to ensure that the industry has access to a training facility that is fit-for-purpose" Mr Dance said.
He said the industry's progress check of the construction was just the beginning of the continuing collaboration.
"Meaningful collaboration with both organisations is definitely required, not just in relation to the construction of the facility, but in an ongoing capacity through the delivery of training and advising on what industry need".
"It's really important that we stay close with TasTAFE and levels of government to ensure that we are training these very critical members of the construction industry for the betterment of Tasmania," Mr Shaw said.
TasTAFE is also continuing to engage with NECA Education & Careers on the progress of the Centre. Together, they have recently worked on a number of workforce development initiatives, including TasTAFE's 'Renewable Energy Pathway Program' which was funded through the $16.1 million Energising Tasmania initiative.
"Both NECA and NECA Education and Careers represent a significant portion of industry whose apprentices and staff engage with TasTAFE in electrical and related trades training. As such, it is imperative that we continue to build on what is already a strong set of relationships" Mr Dance said.