Michelle's dedication to nursing rewarded with scholarship
Published on: 12 May 2021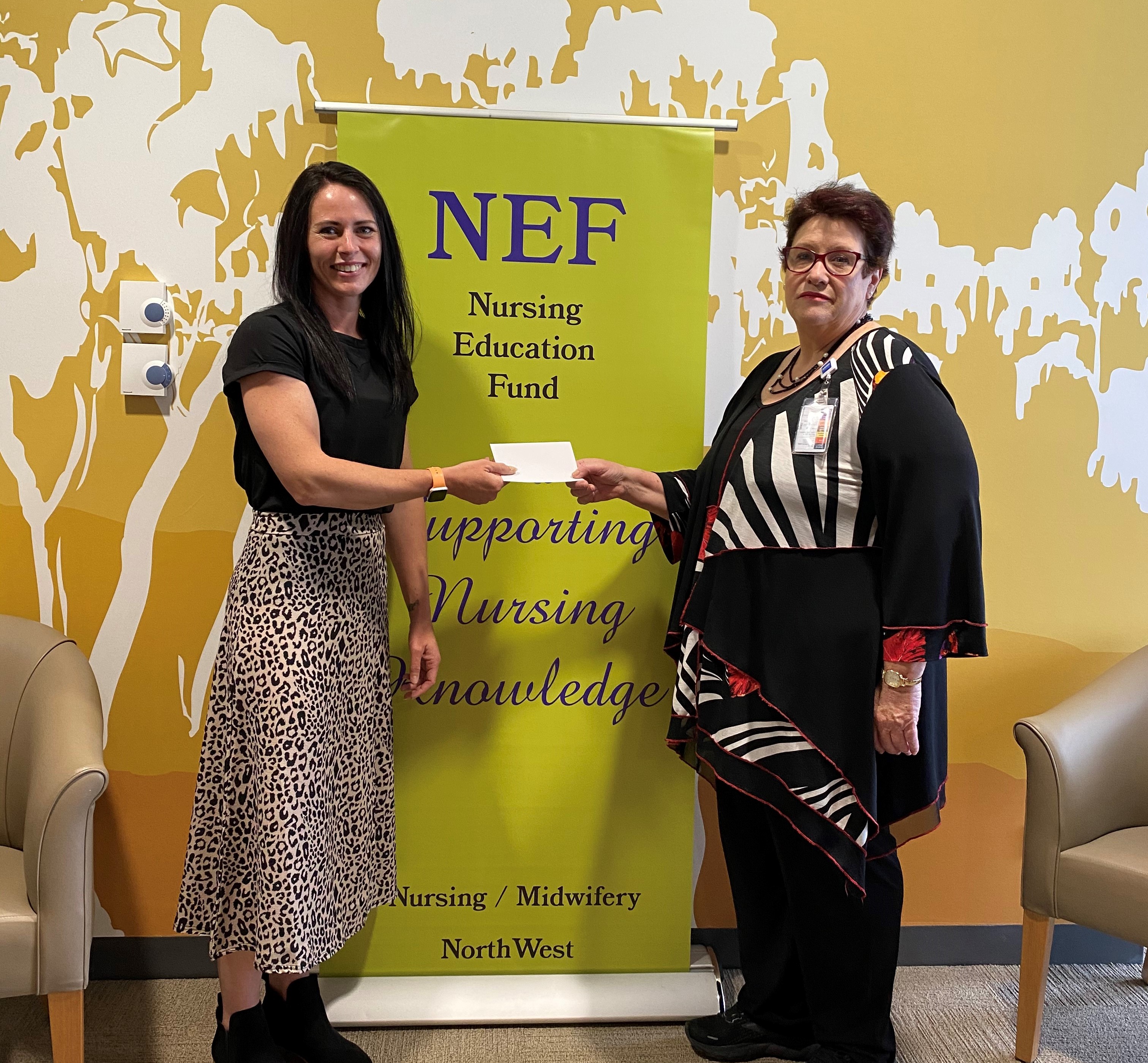 TasTAFE Diploma of Nursing student, Michelle Gillett's dedication to nursing is obvious. She's already working in three causal positions at Burnie's North-West Regional Hospital (NWRH) while juggling her Diploma studies.
Her commitment was rewarded earlier this year when she was selected as one of two recipients of the inaugural Nursing Education Fund (NEF) scholarships. NEF is a non-profit organisation established to assist nursing staff to pursue professional development opportunities.
Michelle (pictured left) started the Diploma of Nursing in 2019 and is due to complete this year. She says she had always been interested in pursuing a career in nursing but having been a single parent to three children for nearly 15 years, didn't have the time to commit to study or take time away from work.
"My children are now older and more independent and I decided it was time to chase my dream. I chose TasTAFE because it was possible to complete the Diploma without having to travel great distances, therefore less of a stress on my family. I spoke to a number of people that had completed the Diploma previously, through TasTAFE and had some great feedback from them, which made the decision even easier."
Michelle says the best thing about the Diploma of Nursing is that it practical and the environment is supportive. "I love the support that I receive, not only from the incredible group of teachers, but also my class mates. I have made some great friends, whilst learning new things and building a great knowledge base. I love that it's very hands on, with lots of time in the prac room, practicing the skills that we are taught in the classroom."
Work placements are a key part of the course, with Michelle completing two work placement periods so far – the first at NWRH and the second in aged care.
"I absolutely loved my placement at NWRH and felt very supported through teaching and education experiences, not only from the nursing preceptors, but also the patients."
Michelle works in three casual positions at NWRH – as an attendant in Spencer Clinic, a cast technician and as an assistant in nursing and says the skills she learnt in the Diploma of Nursing helped her to secure these roles.
"When I complete my Diploma, I would like to obtain employment at the NWRH. I have a great interest in mental health, but would also like to gain employment in another unit of the hospital where I can utilise and expand on my clinical skills."
Michelle says winning the NEF scholarship was a big help in allowing her time to concentrate on her studies.