Jess Bartles - WorldSkills 2023 Butchery silver medallist
Published on: 21 Sep 2023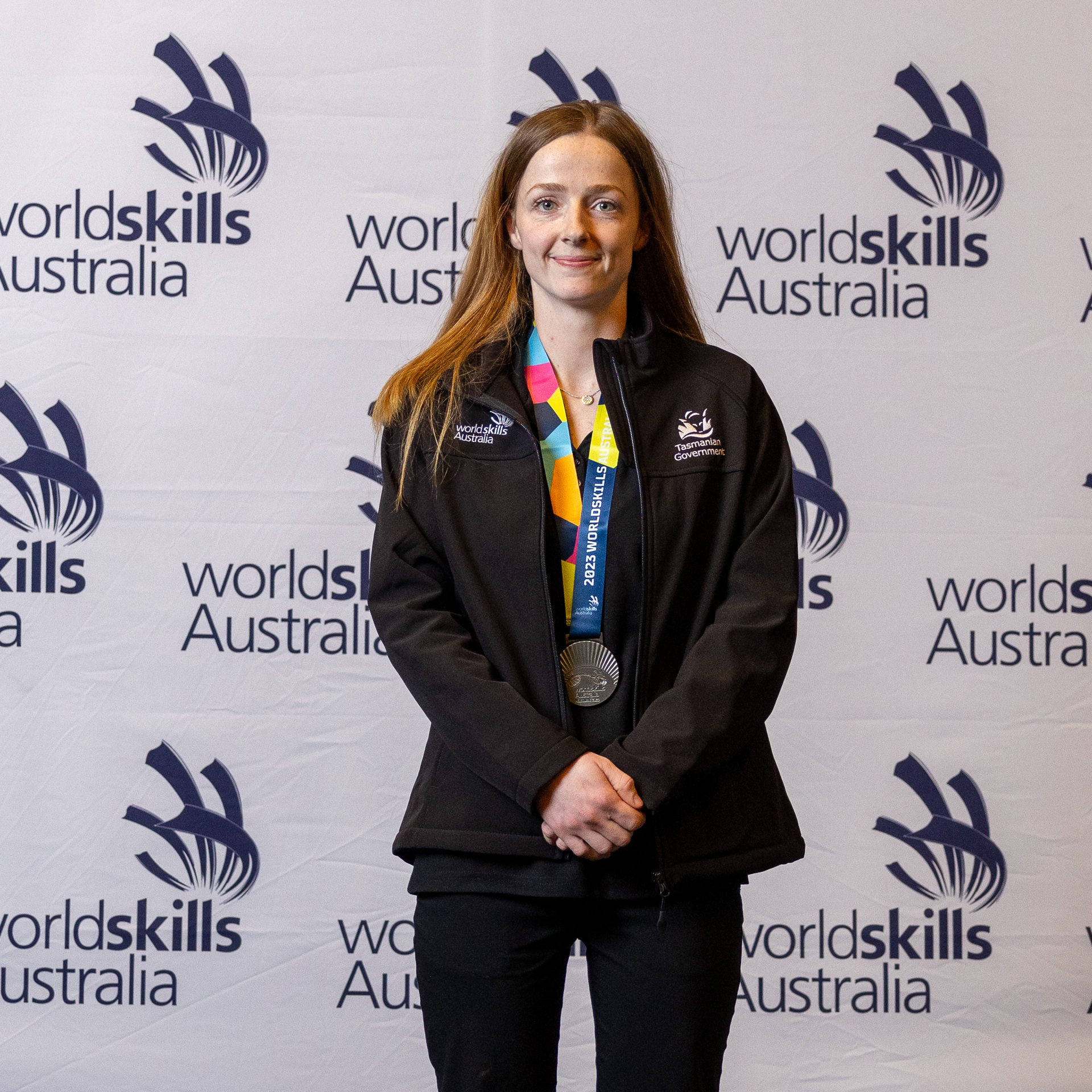 Former TasTAFE apprentice, Jess Bartles, was recently awarded a silver medal after putting her Retail Butchery skills to the test at the WorldSkills Australia National Championships.
The National Championships is Australia's biggest vocational education and excellence competition, with regional competitors from all around the country competing against their industry peers.
Jess, who works as a butcher at Vermey's Quality Meats, was the only woman competing against a field of men at the competition. She's hoping her success will encourage more women in her field to take on the challenge.
"I hope it helps other women in the industry to take that step forward to push themselves. We're getting more and more women in in the industry. I'm hoping them seeing a woman out there pushing the boundaries is going to help them do it as well."
She's looking no further than her own workplace, with her silver medal inspiring one of her colleagues to have a shot at WorldSkills.
"I'm wanting to encourage more young people in my industry to do WorldSkills as well. I work with another young woman named Courtney who I'm encouraging to go for it and she seems really excited about it."
Over the course of 3 days at WorldSkills, Jess and her competitors worked on slicing pork, lamb and beef effectively and efficiently, as well as some smaller tests like a knife sharpening test and a sausage speed test. Jess said her nerves in the competition soon disappeared, thanks in part to the support from her Tasmanian teammates.
"At first it was very, very stressful. I didn't want to embarrass myself and wanted to represent my state well. After the first hour or so the nerves settled a bit and all the other competitors had a good time. We all had good fun, the competitors and the judges, they're all encouraging you. So it turned into a pretty fun experience."
"There were 11 of us from Team Tasmania… We were able to bond and get to know each other which helped when we were all competing because we were able to open up and talk about things at the end of each day. It was good to look up while you were competing and see faces that you know are cheering you on, and you know that they are genuine people who want you to do well."
As a former TasTAFE apprentice, Jess returned to TasTAFE Drysdale Butchery in the lead-up to the competition to hone her craft and says the support she received from her former teachers and wider TasTAFE community was instrumental in her success.
"My TasTAFE teachers, Darren Scott and Heath Ransley, helped me immensely over this last 6 months. I was in at Butchery every Tuesday and they put their time aside to help me refine my skills. They did it out of the goodness of their hearts which I'm very grateful for. Even the chefs at Drysdale would come by too and give me advice on my work. Everyone at TasTAFE is so friendly and willing to help. They didn't have to do it and I'm so grateful."
She said it was encouragement from Darren and Heath, as well as her manager Marcus from Vermey's Quality Meats, which inspired her to participate in WorldSkills in the first place.
"Marcus encouraged it strongly, as well as Darren and Heath, they were telling me I had talent and it should be recognised."
"I think Darren and Heath were just as excited as I was that I won silver!"