International student recognised for commitment to study and the community
Published on: 16 Nov 2021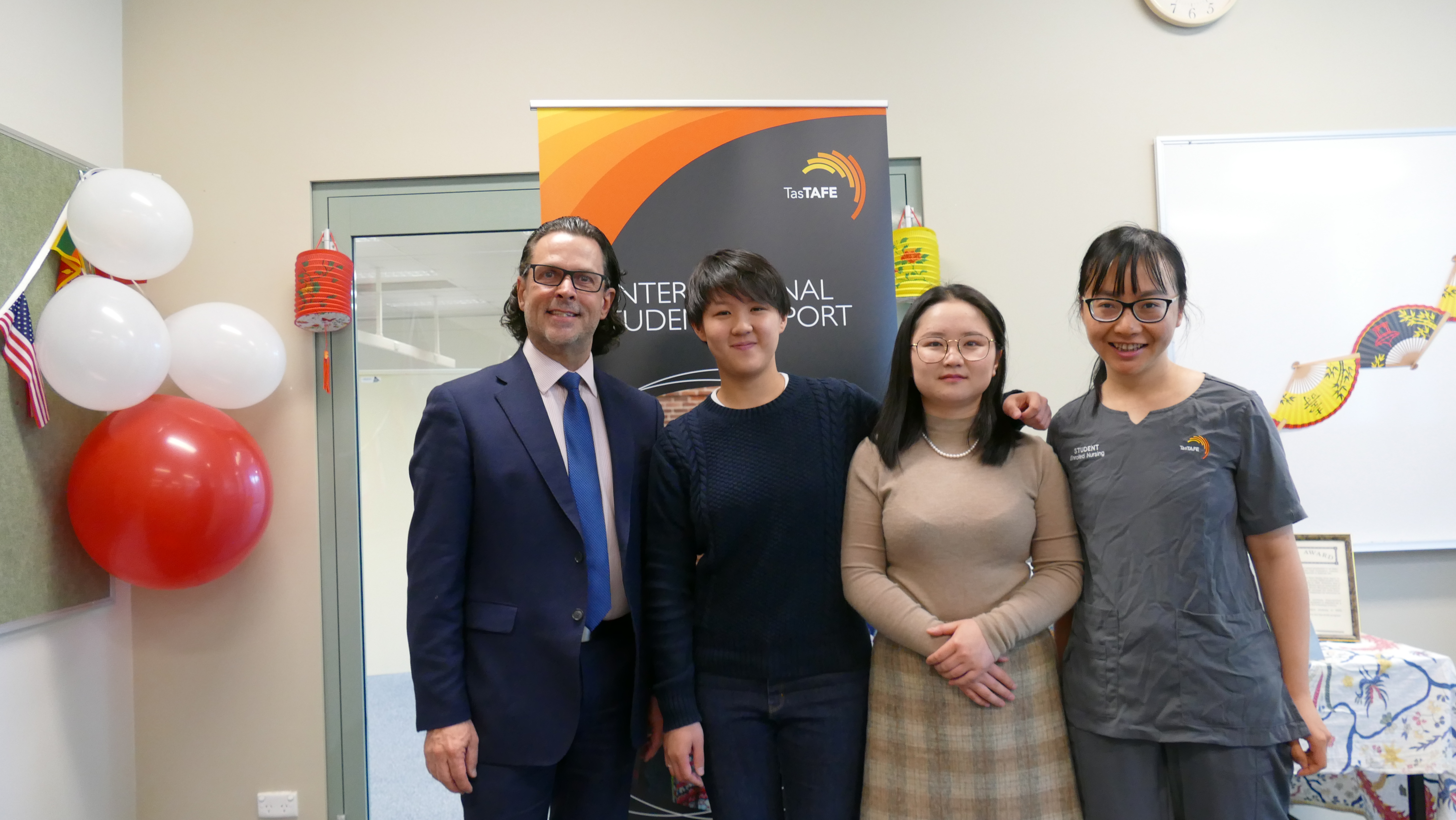 An ICT student studying web-based technologies at TasTAFE has won an award recognising commitment to study and a strong contribution to the community.
TasTAFE CEO, Grant Dreher, yesterday (15 November) presented the Ueno Award to Hei Yin LO (Heibrance – pictured second from left) who is studying Certificate IV in Web-Based Technologies at TasTAFE's Alanvale campus.
The Ueno Award honours former student Hidetaka Ueno who passed away during his studies in Tasmania in 1998. Mr Ueno was in Tasmania studying wool classing and worked at the Mount Morriston property near Ross.
Mr Uneo's parents made a donation to support a perpetual award for an outstanding international student.
TasTAFE CEO, Mr Dreher said Heibrance epitomised what the award was all about.
"Heibrance is a hard-working student who is conscientious and consistent in her efforts in the classroom, undergoing assessments as well as applying her skills outside of study.
"With no previous ICT background prior to this course, but with a keen interest in web development she has built a website for her family's business as well as creating and maintaining a website for another business owned by an alumni member of TasTAFE.
"Learning a new skill with limited foundational knowledge can be a challenge, however Heibrance has proven that with commitment and dedication, and a willingness to problem solve and application to study, you can succeed," said Mr Dreher.
It was this resolve that saw her teacher and a fellow classmate nominate her for this award.
Heibrance is also a TasTAFE International Student Ambassador and seizes the opportunity to represent TasTAFE and GETI at special events and student activities.
Outside of study and role as a TasTAFE International Student Ambassador, Heibrance is a keen swimmer and this year competed in the Master's Swimming Tasmania Short Course Winter Championships. With a commitment to a healthy lifestyle, she has also encouraged students and people in her social circles to go swimming. In 2020 Heibrance also volunteered to be a home-based carer.
"Heibrance is a true inspiration to her fellow students, and I'd like to congratulate her on her outstanding achievements," said Mr Dreher.
Two runner-up awards were also presented, to Panpan LIU, and Juan HAN, both studying Diploma of Nursing at TasTAFE's Alanvale campus.