Construction underway on $21 million Water and Energy Trades Centre of Excellence
Published on: 04 Apr 2022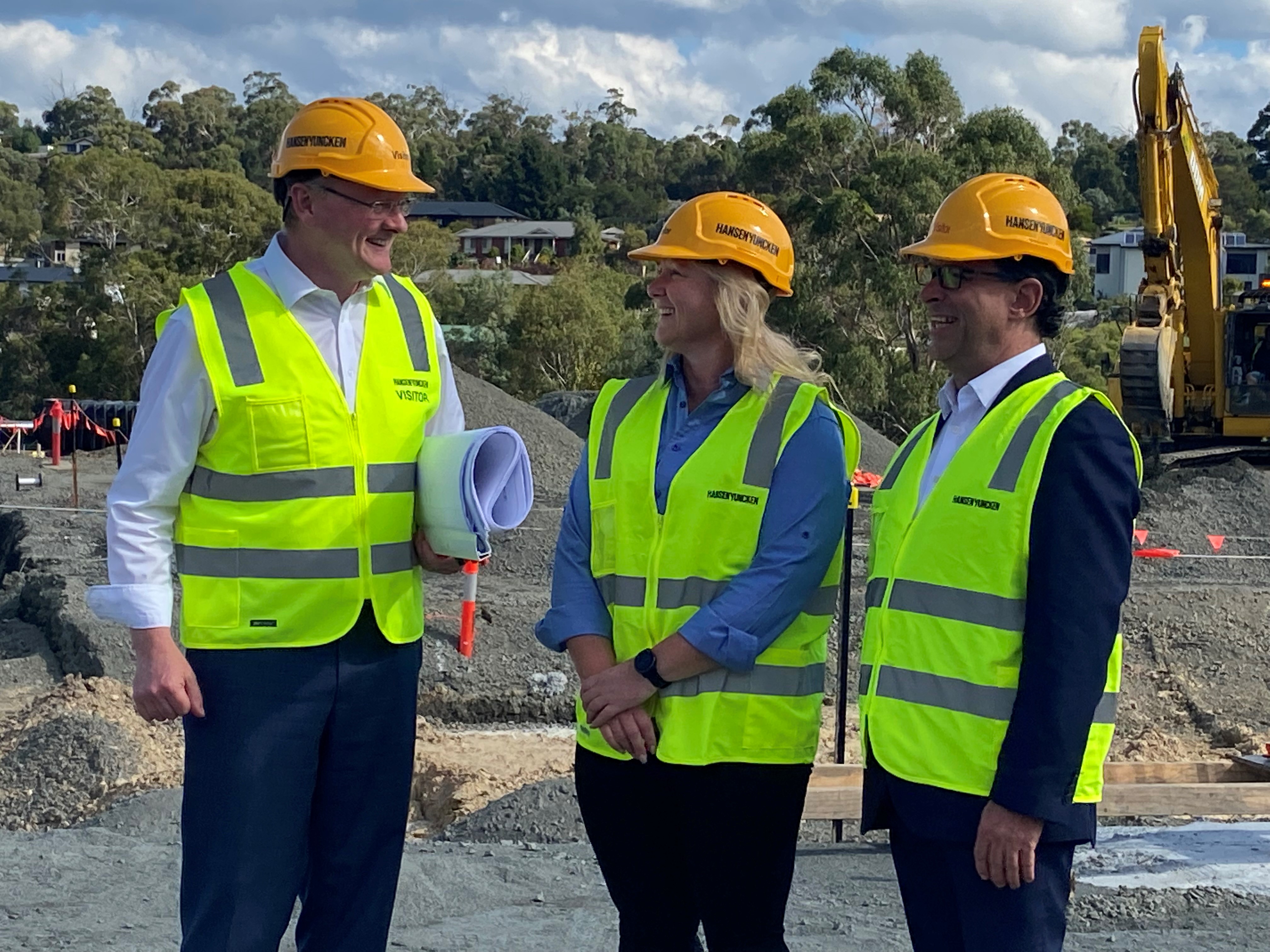 Construction is underway on TasTAFE's $21 million Water and Energy Trades Centre at Clarence Campus.
On 29 March, 2022, Minister for Skills, Training and Workforce Growth, Roger Jaensch and industry partners had the opportunity to tour the WET Centre construction site at Clarence.
Minister Jaensch was joined by TasTAFE CEO, Grant Dreher, and Master Plumbers Association of Tasmania Board Member Cath McDowell (pictured above) along with representatives from Keystone Tasmania, National Electrical and Communications Association (NECA), TasNetworks and the Air Conditioning and Mechanical Contractors Association of Australia (AMCA).
Minister Jaensch said the Centre of Excellence will be one of the newest facilities in Australia, incorporating contemporary learning spaces and modern equipment, that will help train Tasmanians for work in the water and energy sectors.
"The Centre of Excellence will allow TasTAFE to increase its training capacity across trades such as plumbing, refrigeration and air conditioning and electrotechnology," Mr Jaensch said.
"The Centre will also cater for emerging industries such as poly welding and hydrogen, helping to build a skilled workforce to support significant water, energy and infrastructure projects currently in the pipeline."
Federal Assistant Minister for Industry Development Jonno Duniam said the centre would secure the jobs of the future for Tasmania's energy and water sectors.
"A world-class training facility right here in Tasmania will ensure that young Tasmanians have more opportunities to get the skills and education they need to have a fulfilling career," Assistant Minister Duniam said.
"This centre will train Tasmanians for jobs that are absolutely vital to the future of this state, and it is great to see this partnership between the state and federal governments and industry deliver on this important commitment."
Visit the Water and Energy Trades Centre of Excellence page to find out more about the project.