Cate Jones – Trainee of the Year
Published on: 10 Oct 2023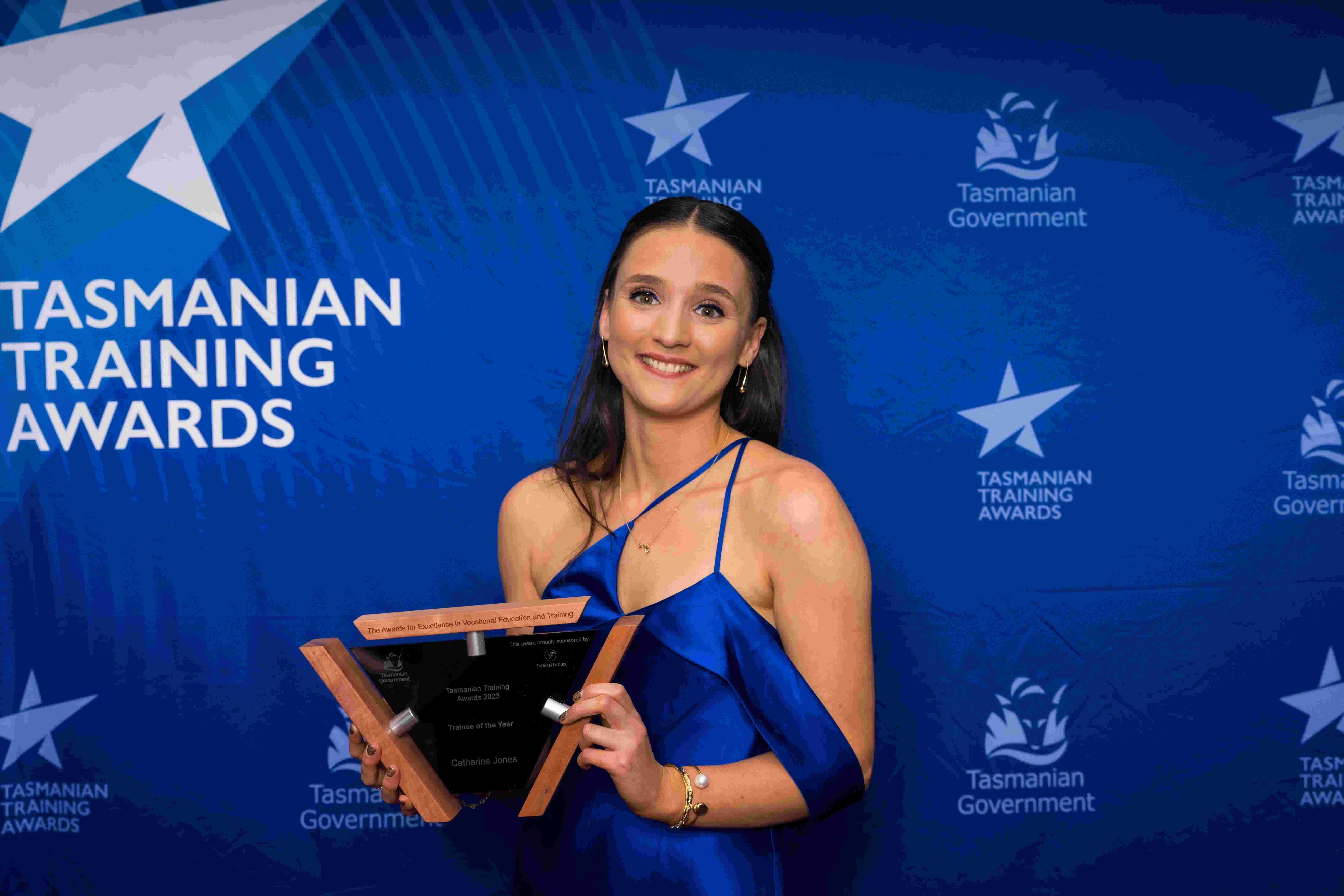 Cate Jones was recently named the Trainee of the Year at the 2023 Tasmanian training Awards.
Cate completed her Certificate III in Hospitality at TasTAFE and works at Cataract on Paterson. She said her training at TasTAFE has played a big role in her winning the award and the success she's already had in her career.
"The traineeship was very beneficial, because I was able to complete most of the training on the job, which combines the explicit knowledge you learn with TasTAFE and then applying that to the real-life situations at work. It all fed into each other. I was able to use all the knowledge I learned about Tasmanian wines for example, which meant when I was working with wine suppliers, I was far more engaged."
A former architecture student at the University of Melbourne, Cate's career in hospitality began when she started her Certificate II at Rupert and Hound as a Hospitality Trainee. In the midst of the outbreak of COVID-19, Cate moved back to Tasmania to be closer to family and said after spending so much time locked down in Melbourne, being surrounded by people in hospitality was refreshing.
Since then, there's been no looking back for Cate, who has found her niche in industry.
"I've found my spot in hospitality. It combines all the different aspects of my personality – I'm very logical and strategic but I also have a creative side… in addition to my regular duties at Cataract on Paterson I am also involved in things like menu design and social media."
From the beginning of her journey TasTAFE teacher, Kylie Allen, has played a big role in in Cate's training.
"I was in contact with my teacher Kylie a lot. She would always let me know about different opportunities that were available. Having one consistent person has been important as well. She's really supported me through the journey of my Certificate II and Certificate III. She's seen how I've developed and grown through those qualifications."
Despite having completed her training and having found her spot in the hospitality industry, Cate says she's still eyeing off plenty of training opportunities – next on the list are her Certificate IV in Hospitality and a Diploma in Leadership and Management with TasTAFE.
Cate will represent Tasmania at the Australian Training Awards in Hobart in November and is excited by the development opportunities that will present.
"It's such an exciting opportunity, more so than I even expected – there's several professional development days before the awards and plenty of time to connect with all the other state winners."