Bradley Maynard - Aboriginal and Torres Strait Islander Student of the Year
Published on: 20 Oct 2023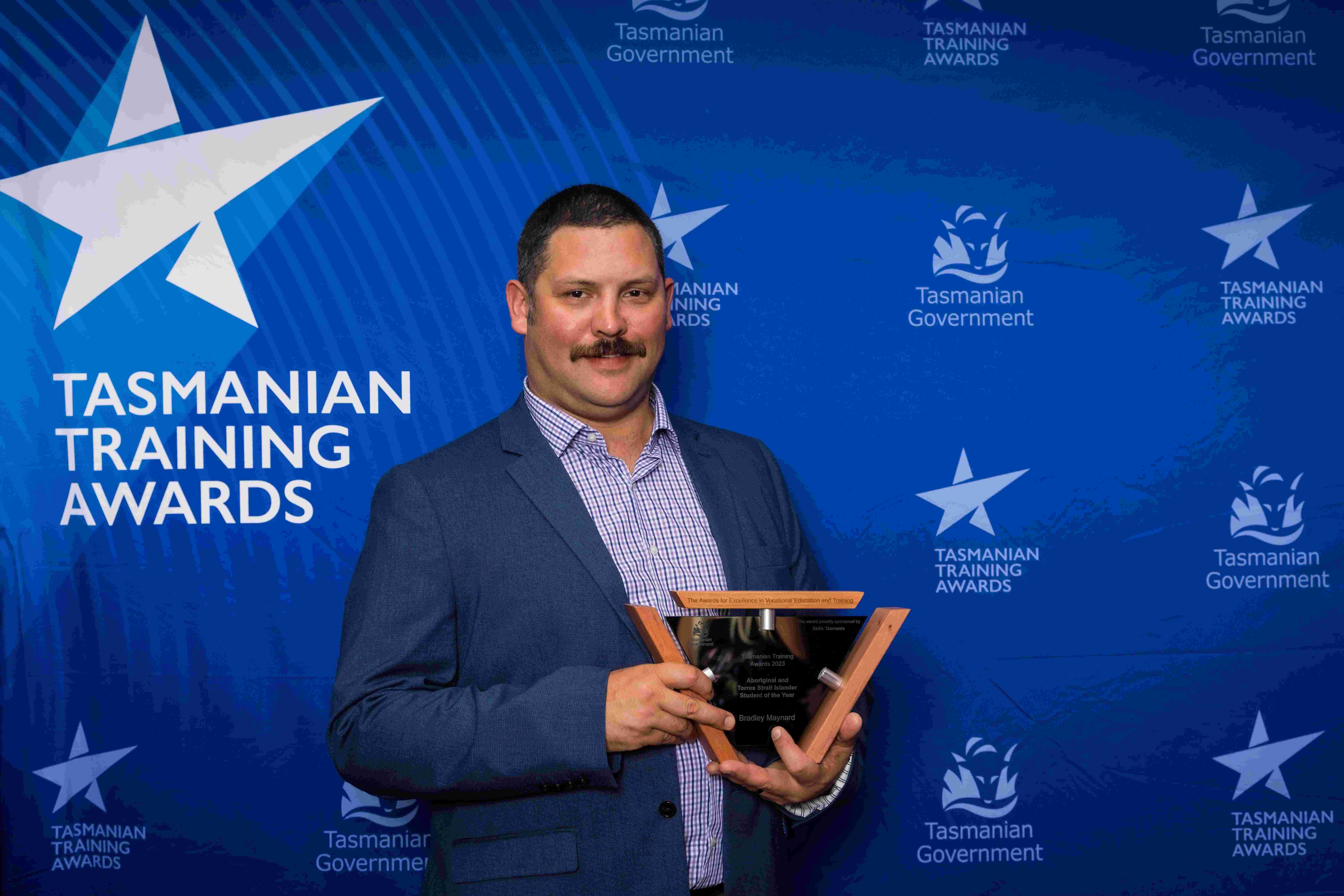 Bradley Maynard was recently named the Aboriginal-Torres Strait Islander Student of the Year at the 2023 Tasmanian Training Awards.
He said the award came as a surprise, especially after he sized up some of competition for the prize.
"There were quite a few younger finalists, being an older person that works in construction, I wasn't expecting to be that sort of person (to win the award)." Bradley said.
Bradley completed his Certificate IV in Work Health and Safety at TasTAFE. He said perhaps the best thing to come from winning the award is that it has opened up more conversations about vocational education and training (VET) at his workplace, Crisp Bros & Haywards Pty Ltd where he works as a Safety Manager.
"At work they put my picture up around the workshop everywhere and did some social media posts, which has got a lot of people talking to me about it. It has put training in the spotlight and a lot of people are more interested in it. Especially the older ones or the ones who previously thought they didn't need it."
"It's given me the opportunity where people talk to me about training. I'm starting to influence some of my colleagues to get on board with further education and VET."
Bradley began his own training journey with a testing and tagging course, which he signed up for after learning about TasTAFE's Aboriginal Support Programs. Soon after completing the testing and tagging course, he completed a Certificate IV in Project Management. Bradley had the training itch, and signed up for another Certificate IV, this time in Work, Health and Safety.
As a project supervisor working on high level safety jobs, Bradley wanted to learn all he could about WHS, especially given his responsibilities in writing safe work method statements and covering off on the safety of his team.
He said his passion for study led him into his current job.
"I think work heard about what I was doing, and a position came up as a Safety Manager and everything sort of fell into place. It (study) was just for my self-education, but led into what I'm doing now as Safety Manager. I went from looking after four to five people to nearly 300."
Given his training journey has helped lead him to a managerial position at his workplace, Bradley has recently completed his Certificate IV in Training and Assessing with TasTAFE.
All through his training journey, Bradley has had the backing of TasTAFE's Aboriginal Support Officers. The officers are well connected within their local communities and draw on a wide range of Aboriginal and mainstream networks to provide assistance and support to Aboriginal students. Bradley said they were always around to lend him a hand when he needed it.
"They were there for anything I needed really. They were always in contact to see if I needed any help with something or any support. They've supported me through five courses and I'm on my sixth now."
Equally, Bradley said his teachers at TasTAFE have always been supportive, especially as a lot of it has been done online.
"All the teachers I've had have been so helpful. Most of the courses I've done have been by distance and they've always been very responsive to my phone calls and emails. They seem to go out of their way to help you, and the help they provide is second to none."
Bradley will represent Tasmania at the Australian Training Awards in Hobart in November.