TasTAFE nursing student wins Ueno Award
Published on: 22 Nov 2022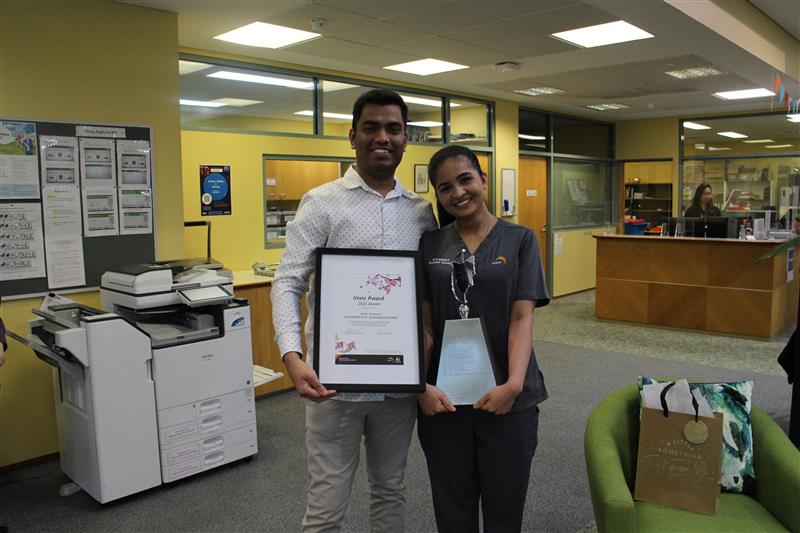 A TasTAFE nursing student who has shown determination to overcome learning barriers has won an award recognising her commitment to study and her strong contribution to campus and community life.
TasTAFE Director - People, Performance and Culture, Jim Burden, today presented the Uneo Award to Akila Asinsana Gunaherath Chadrasekara (Akila) who is studying the Diploma of Nursing at TasTAFE's Alanvale Campus.
Panpan Liu and Grace Asomaning were runners-up for the award.
The annual award honours former international student, Hidetaka Ueno, who passed away during his studies in Tasmania in 1998. Mr Ueno was in Tasmania studying and working in wool classing. His parents made a donation to support a perpetual award for an outstanding international student.
Mr Burden said Akila was a deserving recipient of the award.
"Akila has demonstrated excellent achievement in her academic studies. Even though she lacked confidence in speaking and was nervous in social situations, she was determined to overcome her learning barriers.
"She took the initial steps to seek assistance with improving her public speaking skills from TasTAFE's Student Support team and followed the suggestions of her learning access plan. Since then, Akila has shown a big improvement in her communication skills.
"Akila's is committed to her Diploma of Nursing course, reading extra books and watching tutorials online to learn more comprehensively about the Diploma of Nursing.
"In 2022, she started volunteering weekly at Red Cross Lifeblood in Launceston.
"Akila also works as a disability support worker, helping clients in improving their quality of life so that they can maintain a sense of dignity. She plans to become an enrolled nurse in the future," Mr Burden said.
Mr Burden said TasTAFE was proud to support the Ueno award.
"International students bring so much to our campuses and help make TasTAFE a place that is socially and culturally diverse and enriching for everyone."