Burnie Campus
About
Burnie Campus is one of our largest campuses in the north west of Tasmania and is co-located with Hellyer College and the University of Tasmania at Burnie's Mooreville Road education precinct.
Metro buses provide regular transport to and from the Burnie CBD, as well as links to nearby towns, and there is there plenty of free, onsite parking.
At Burnie Campus, we have specialist Construction and Automotive workshops, a Fashion studio, and the state's only Instrumentation and Control training facility complete with instrumentation lab, calibration area and computer lab. Burnie is also home to Community and Children's Services, Aged Care and Disability facilities, a Horticulture propagation nursery and glasshouse and much, much more...!
Other facilities at Burnie Campus include a contemporary learning space and DigiLab – where you can come along and experience virtual environments, use 3D printers and scanners, and see how to program a robot – as well as a large onsite cafeteria, multiple student lounge areas, and a warm and welcoming Library.
At Burnie Campus, you can also come in to our Client Services office to make an appointment with one of our counsellors or student advisors, pay your fees and get your student ID card.
Services and Facilities
Café (11.30am-2pm Monday- Friday)
Car parking - Free parking
Client Services
Computer lab/s
Information and cultural services
Public Transport
Wi-Fi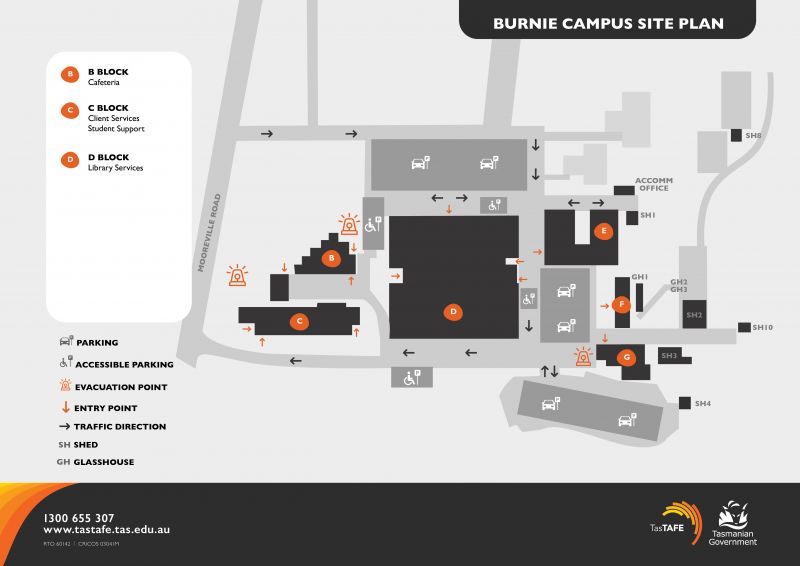 Virtual Tours
Come and immerse yourself by getting a 360 degree view of some of our amazing facilities around the state!