TasTAFE students prepared for plumbing apprenticeships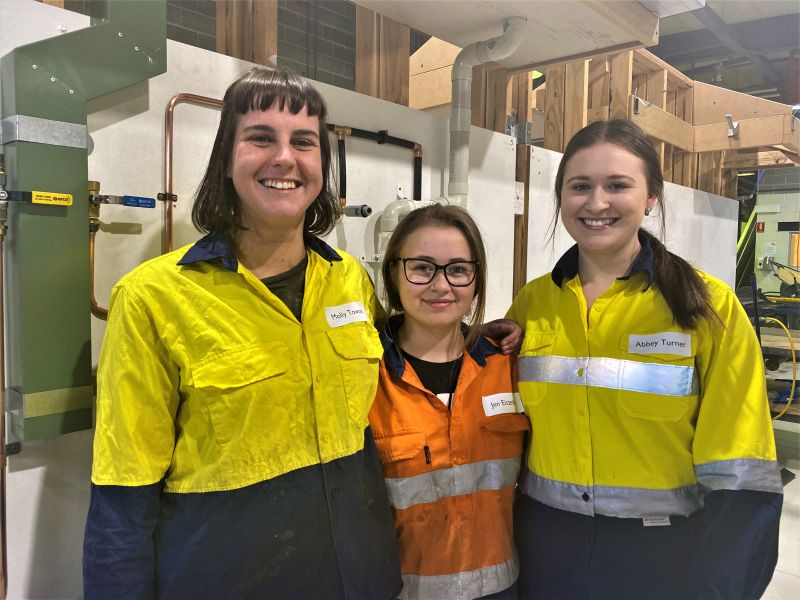 Six students who recently completed TasTAFE's Certificate II in Plumbing in Hobart have gained apprenticeships in the industry.
They were among ten students who undertook the qualification at TasTAFE's Claremont training facility.
The course, which is supported by Master Plumbers' Association of Tasmania (MPA), offers foundation skills to help participants gain an apprenticeship.
One the last day of the course, the students had the opportunity to meet with representatives from MPA and industry to talk about upcoming apprenticeship opportunities. Six of them have since been offered apprenticeships and another undertaking a trial before commencing.
Abbey Turner (pictured right) was one of three female students who completed the course. She has now gained an apprenticeship.
"I wanted to try something new. I thought I'd give it a go and it was the best thing I've ever done. I loved the course and would recommend it to anyone."
Fellow student, Jen Eiszele (pictured centre) said teacher, James Sawford, had been key to her success in completing the course.
"Our teacher, James, was amazing and provided a lot of support. I walked in knowing nothing and he gave us confidence."
During the course students learn about the principles of plumbing, workplace health and safety, and are given an introduction to the water, sanitary/drainage, roof, gas and mechanical services streams of the industry.
They also develop the skills to read and interpret drawings and plans, carry out measurements and calculations, fabricate and install simulated piping systems and develop basic work skills with plumbing hand and power tools.