TasTAFE Drysdale Tourism student awarded Women in Tourism and Hospitality Tasmania Encouragement award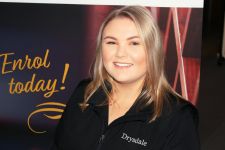 TasTAFE Drysdale student, Caitlin Foale, has always been interested in tourism, but it was trip to the other side of the world that motivated her to pursue a career in Tasmania's tourism industry.
Caitlin, who has just received a Women in Tourism and Hospitality (WITH) Tasmania Encouragement Award scholarship, was visiting world famous tourist attraction, Alcatraz, in San Francisco when she had her "lightbulb" moment.
While she loved San Francisco, she felt underwhelmed by the Alcatraz site and the lack of interactive engagement and hands-on experience for both young and old. Having grown up with a family shack near the Port Arthur historic site, Caitlin couldn't help but compare the two very different prison sites.
"My experience at Alcatraz was really underwhelming and you just couldn't compare it to something as amazing as our World heritage-listed Port Arthur Historic Site," Caitlin said.
"It was sitting at Alcatraz that I realised I'm so proud to come from Tasmania which is such a beautiful place and where there are so many things to see and do. I thought, 'when I get back to Tasmania I know what I want to do.' The tourism industry was calling my name."
Caitlin had previously studied a Certificate III in Events at Drysdale when she finished college. She travelled and worked in retail for 10 years, including the last five in management positions. When she returned to Tasmania from the US, she signed up for TasTAFE's Certificate III in Tourism and hasn't looked back.
"I feel like I'm finally on track and doing something that I'm passionate about. Once I've finished the Certificate III I'd like to go on and do the Certificate IV in Travel and Tourism and then the Advanced Diploma of Travel and Tourism Management.
Caitlin then plans to complete the Bachelor of Business Administration, majoring in Tourism Management at university. Due to articulation arrangements between TasTAFE and the University of Tasmania for the Advanced Diploma of Travel and Tourism Management, she will only need to complete one year of the qualification to gain her Bachelor degree. Caitlin would then like to complete a Masters in Marketing so that she can have a career promoting the state she loves.
Due to the current COVID-19 situation, Caitlin and her classmates are currently learning online and Caitlin says it has been a positive experience.
"I'd like to give a special shout-out to our TasTAFE (Drysdale) teachers for all that they're doing at the moment. They have done so much work to adjust our schedule so that we can continue our course online – they've been amazing."
Caitlin says she is proud to be awarded the Women in Tourism Encouragement Awards and thanked Women in Tourism and Hospitality Tasmania for the opportunity.
Each year Women in Tourism and Hospitality Tasmania (WITH Tas) invests in and connects to the next generation of women in our industry through a scholarship program. This provides financial and practical support to a young woman studying tourism/hospitality subjects who aspires to pursue a career in the industry.
Due to the high calibre of applicants this year, the WITH Tas Committee decided to award two 'encouragement' prizes of $500 each, with one of these prizes awarded to Caitlin for her strong motivation and ability to succeed in the tourism/hospitality industry.
Drysdale is the tourism and hospitality training area of TasTAFE.