TasTAFE's new health training hub will help meet industry demand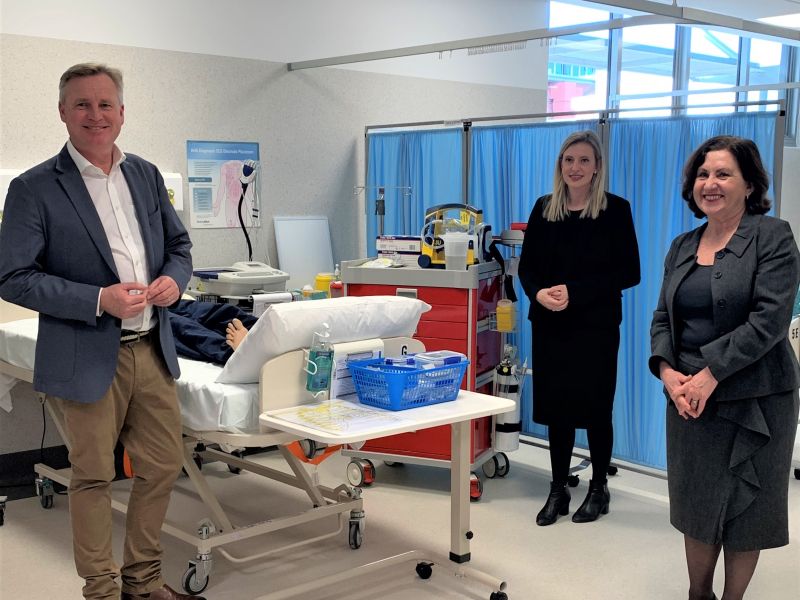 A new $1.4 million health training hub at TasTAFE's Clarence Campus will help meet the high demand for skilled health care workers in Tasmania.
The hub, opened today by the Minister for Education and Training, Jeremy Rockliff, includes three nursing training wards which are exact replicas of real hospital wards, a nurse's station, task training rooms, classrooms and tech labs.
The facilities have been fitted out to the latest industry standards with state of the art equipment, providing real life learning experiences for students and meeting industry demand for enrolled nurses with job-ready skills.
In 2019, the TasTAFE Diploma of Nursing program was accredited by the Australian Nursing and Midwifery Accreditation Council (ANMAC) for the maximum five years. This was a significant outcome and has resulted in a refreshed program that fully meets industry needs.
The new program, delivered in new spaces, will enable TasTAFE to expand its capacity to train more enrolled nurses.
The flexible, reconfigurable training spaces were designed by Loop Architecture with construction by Fairbrother.
A similar health training hub redevelopment is close to completion at TasTAFE's Alanvale Campus in Launceston and will also allow for growth in student numbers.
TasTAFE CEO, Jenny Dodd, said the new health training hub redevelopment would help ensure that TasTAFE is well-equipped to train Tasmania's health workforce and provide the latest, industry-standard training for students.
Australian Nursing and Midwifery Federation Tasmanian Branch Secretary, Emily Shepherd, said the facilities would offer additional opportunities for Tasmanians to join the nursing industry.
"These facilities will allow our members who are delivering training to be able to provide evidence based simulation experience which mirrors the clinical practice that students will need to deliver in the workplace," Ms Shepherd said.