TasTAFE students and staff recognised with Study Tasmania International Education Awards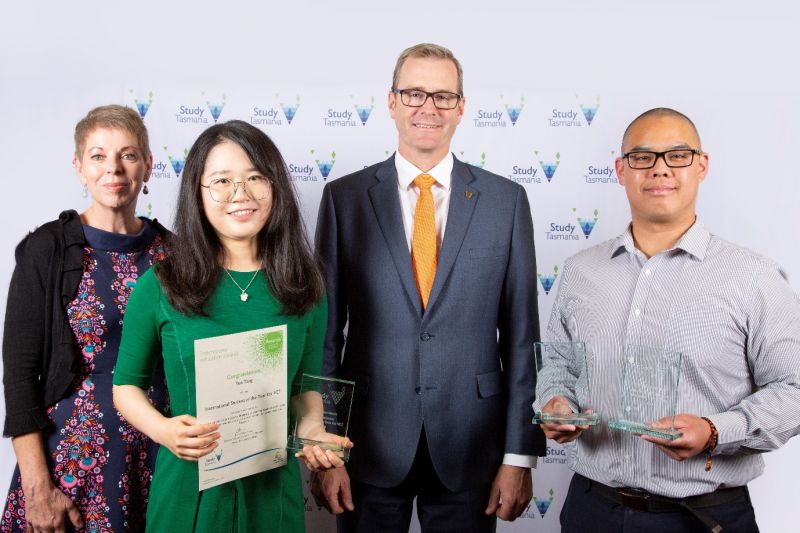 Congratulations to the TasTAFE students and staff recognised at the recent Study Tasmania International Education Awards.
TasTAFE International Student Advisor, Edgar Fergus Ho (pictured far right) won the International Education Staff Member Award. This award is for a staff member who displays an exceptional commitment to enhance the study and living experience and future aspirations of Tasmanian international students.
Edgar is at the forefront of helping international students as an International Student Advisor at TasTAFE Hobart Campus. He is very dedicated to the sector and his students. He goes out of his way to ensure that his students are well looked after while studying in Tasmania and is genuinely interested in his students' wellbeing.
Edgar was nominated for this award by numerous staff members and students, which clearly shows the impact that his service has on the sector.
TasTAFE Nursing student Yue Yang (pictured second from left), won the International Student of the Year Award for a VET Student. This is Awarded to a VET student who exhibits outstanding academic skills, other talents and achievements to serve as a role model for young people in Tasmania.
Yue is studying a Diploma of Nursing at TasTAFE. She demonstrated an outstanding level of skill and commitment during her studies.
Yue has been described by her nominator as a very intelligent, friendly and caring individual. In addition to her studies, she also contributes her spare time to volunteering and helping others. She is motivated to contribute to Tasmania's multicultural community. Her determination and commitment have resulted in her securing a job with Southern Cross Care post-graduation. This is an area of the community where Yue hopes to make a real difference in the lives of the elderly.
The International Graduate of the year award went to Prabhjot Singh. The award goes to a graduate for his or her character, service, outstanding contributions and academic achievements.
Prabhjot is a role model for international student graduates in Tasmania. He has been recognised because of his strong involvement in the community, impressive academic background and creating a great career outcome for himself after graduation. Prabhjot has successfully secured employment as an enrolled nurse with Southern Cross Care after completing his Diploma with TasTAFE.