TasTAFE student recognised with viticulture award
18 February 2020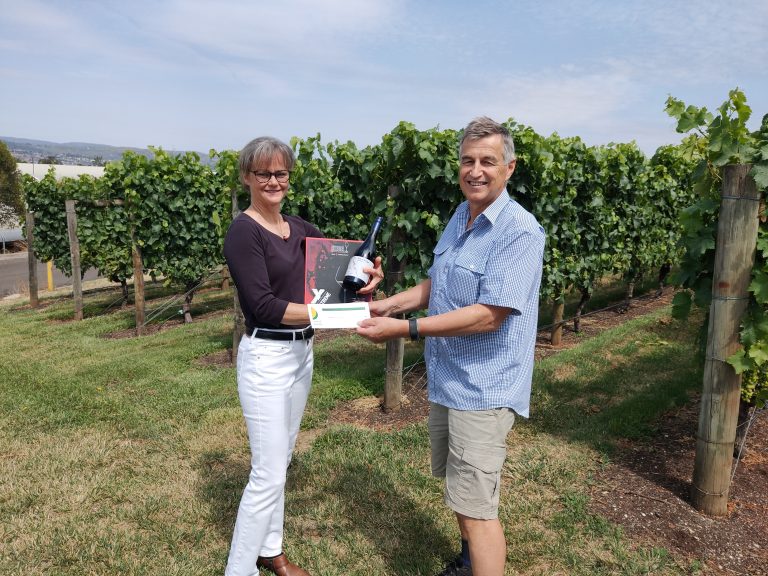 TasTAFE Viticulture student, Anne de Hayr, has been named the 2019 Most Outstanding Viticulture Student.
Anne, who completed a Certificate II in Wine Operations at TasTAFE last year, was announced as the award recipient at the Tasmanian Wine Show in Launceston recently.
Anne and her husband recently moved back to Tasmania after some time away, excited by the opportunities in the growing Tasmanian wine industry.
"We have always been involved in agricultural pursuits and we wanted to do some research before looking at doing something on our own. I'm particularly interested in getting involved in working in vineyards so I'm very interested in the whole horticulture industry," Anne said.
This prompted Anne to enrol in the Certificate II in Wine Industry Operations course at TasTAFE where she says she found an excellent teacher and a class of like-minded people passionate about the industry and the opportunities it presents.
"I particularly think that the Tasmanian viticultural industry is looking at some very interesting and buoyant times ahead. There's a lot of large commercial investment coming into the state and also an extraordinary amount of land being diversified into vineyards.
"Tasmania is amazing in how it's doing this. It's really the only region in Australia putting effort into irrigation schemes. Land use has changed and there's a lot of dry land that's now being converted into more intensive agriculture.
"The wine industry in Tasmania is particularly professional and forward-thinking," Anne said.
"We were extremely lucky to have someone with the expertise of Mark Brewer as our teacher for the wine operations course. His knowledge of the Tasmanian wine industry and viticulture itself is second to none.
Anne says she was delighted to win the Most Outstanding Viticulture Student award.
"I was very surprised to win the award, especially given the cohort of students I was working with. The class was a very interesting and dynamic group of people. Like me, a lot of them were people who had been working in other fields and were looking for a change of direction. Most of them had done their research before starting the course and think the wine industry has a very strong future down here.
"I would recommend the course to anybody interested in the field. It's a good all-round introduction to the way that vineyards and wineries are run."
Anne is now keen to get some hand-on experience working in vineyards before potentially undertaking the Certificate III course in 2021.
"I'd like to look at doing further study next year. In the meantime, I'd really like to get myself employment in the field itself. I really enjoy it and I'd like to be able to put my training into practice," Anne said.
TasTAFE's Certificate II in Wine Industry Operations course provides vocational skills for work in the wine industry. For more information about the course or other TasTAFE courses visit www.tastafe.tas.edu.au or phone: 1300 655 307.