TasTAFE helps Kyle turn a passion for fitness into a career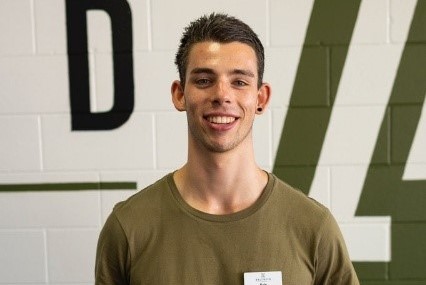 Kyle McGiveron has converted a passion for the gym into a career after completing a Certificate III in Fitness at TasTAFE.
Kyle discovered the gym while at college and decided he wanted to take the next step and forge a career in the fitness industry. He completed the Certificate III in Fitness at TasTAFE's Devonport campus in 2019 and has since gone on to study a Certificate IV.
Kyle has now found a job he loves running group fitness sessions and doing personal training at new Ulverstone gym, Balanced Fitness.
He says the TasTAFE course showed him that there was much more to working in the industry than he first realised.
"The course was great. There was a lot going into it that I didn't know about fitness and it covered all the bases really well. I learnt so much. Specifically, I learnt a lot about how to cater for groups and the anatomy side of it was really good and super interesting," Kyle said.
Kyle, says the support from TasTAFE fitness teacher, Bill Scully, was a key part of his success.
"I think definitely having someone like Bill was a big part of why I got so much out of it. He has so much experience and he's really patient and all round a really good teacher."
Kyle finds his job at Balanced Fitness very rewarding.
"It's more than just teaching someone to move, there's also a social side to it. At the end of the day you can brighten someone's day just by having a chat and asking how they are as well as improving their overall health and fitness," Kyle said.
TasTAFE's Certificate III in Fitness is being offered in Devonport and Hobart in 2021. APPLY NOW for Semester 1, 2021.