TasTAFE finalists - Australian Training Awards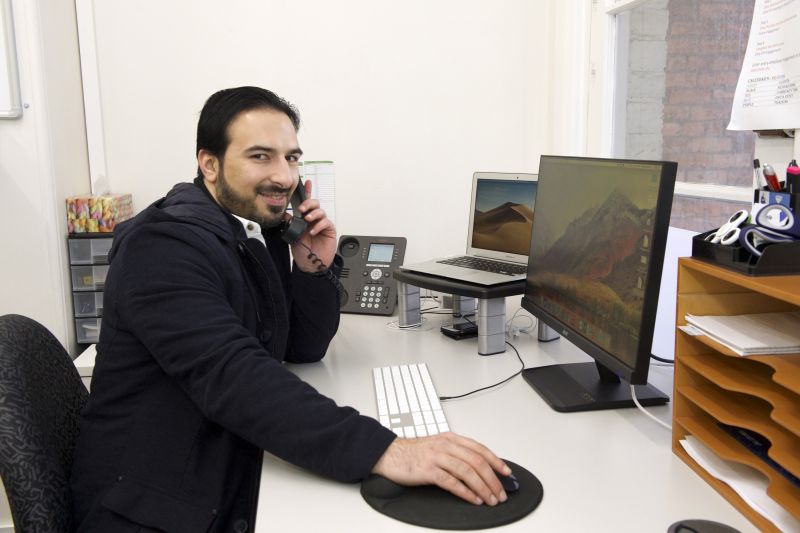 A refugee who spoke virtually no English when he arrived in Australia eight years ago has been recognised for his outstanding achievements as a finalist in the Vocational Student of the Year category at the Australian Training Awards.
Hobart's Heetham Hekmat (pictured) is one of three TasTAFE-trained students who are finalists in the Awards to be announced in an online ceremony on Friday (20 November).
TasTAFE is also one of three registered training providers nationally to be shortlisted in the Large Training Provider of the year category at the national awards.
Heetham fled his home in Iraq as a teenager and spent seven years waiting in Syria for safe settlement. When he arrived in Hobart, he had very limited English and no qualifications.
"I couldn't really speak the language, all I could say was yes and no. So I went to TasTAFE and started in the Young Migrant Education (YMEP) classes learning English. I did two years of that and then I went and did Return to Study as well," Heetham said.
He then went on to complete a Certificate III and IV in Community Services, before completing the Diploma of Community Services last year.
Heetham now works at The Link Youth Health Service in Hobart supporting young people. He is a long-term member of the Students Against Racism group. The group share their stories to promote diversity and inclusion.
TasTAFE CEO, Jenny Dodd, said Heetham's success reflected the high quality of TasTAFE's English Language Services team and their work in delivering programs such as the Young Migrant Education Program, teaching English and vocational skills to migrants and refugees in Hobart.
Hobart's Jessica Matthews is a finalist in the Aboriginal and Torres Strait Islander Student of the Year category.
Jessica completed a Diploma of Nursing at TasTAFE and currently works at the Aboriginal Health Service as a children's health promotion worker and pregnancy support.
"I really enjoy working in the community. So that's my goal – to give back in the future," Jessica said.
North-West based agriculture apprentice, Caitlin Radford is a finalist in the Apprentice of the Year category.
Caitlin did an on-farm apprenticeship, completing her Certificate III in Agriculture while working on her parents' farm, S W Radford Pty Ltd, at Moriarty. She recently started share-farming with her grandfather.
"It's an awesome opportunity and the next step for me. So I plan to continue doing that and work towards purchasing my own farm and taking over the family farm in the future," Caitlin said.
Ms Dodd said TasTAFE was extremely proud of all three students and wished them the best of luck for the national awards.
'Being finalists for these national awards shows their hard work and dedication to their training, as well as their passion and enthusiasm for vocational education and training.
"We believe our high quality training and the support we have provided to these students has also played a part in their success.
"TasTAFE is also proud to be recognised as a finalist for Large Training Provider of the Year. This is testament to the hard work of our staff and the priority that we place on providing high quality training to our students and for industry," Ms Dodd said.
Good luck to all finalists in the 2020 Australian Training Awards.