TasTAFE enjoys success at 2020 Tasmanian Training Awards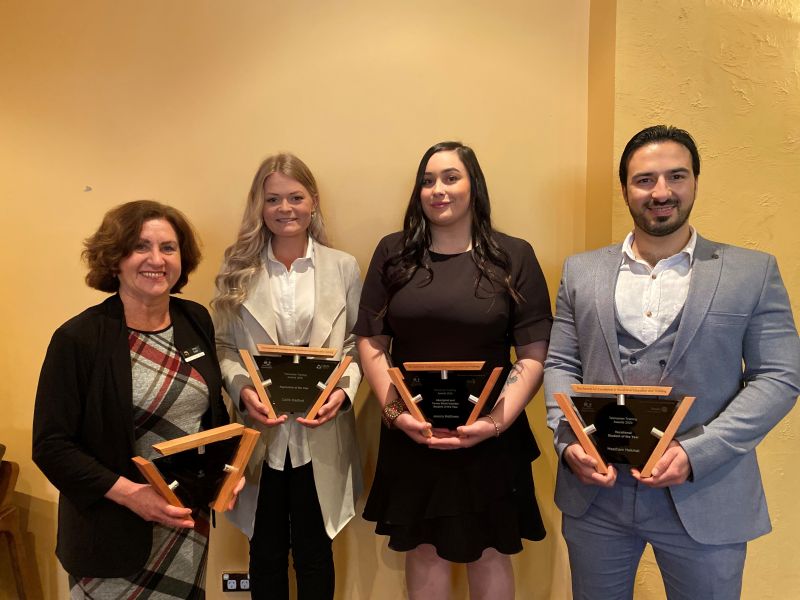 TasTAFE was named Large Training Provider of the Year at the 2020 Tasmanian Training awards on 9 October.
Three TasTAFE-trained students (pictured) also won individual category awards and will now represent Tasmania at the Australian Training Awards in November:
Apprentice of the Year – Caitlin Radford (Certificate III in Agriculture)
Aboriginal and Torres Strait Islander Student of the Year - Jessica Matthews (Diploma of Nursing)
Vocational Student of the Year – Heetham Hekmat (Diploma in Community Services).
TasTAFE CEO, Jenny Dodd said the Large Training Provider award was testament to the quality of the training delivered by all of the staff at TasTAFE.
"Our staff are dedicated and committed to providing high quality training and support for our students and they all share in this award.
"TasTAFE is highly responsive to students' training needs, focusing on job-readiness and employment outcomes. This is reflected in some of the highest student satisfaction rates of all vocational training providers in Australia.
"In 2020 the organisation has embraced the challenges of COVID-19 with a clear plan that prioritises student learning. A quick transition to digitally supported learning, was combined with a plan to reinstate practical training as soon as it was safe to do so."
Ms Dodd said the quality of TasTAFE's training was also highlighted in its students' success at the awards, including in the prestigious Apprentice of the Year category, where all of the seven finalists were trained by TasTAFE.
"The apprentices represented six different industries which is an example of the breadth of what we do," Ms Dodd said.
"We are extremely proud of the success of our student winners and wish them every success.
"I'd like to congratulate all of the award winners and finalists, including the five TasTAFE teachers who were finalists in the VET Teacher/Trainer of the Year category," Ms Dodd said.