TasTAFE and Colony 47 serving up support for Tasmanians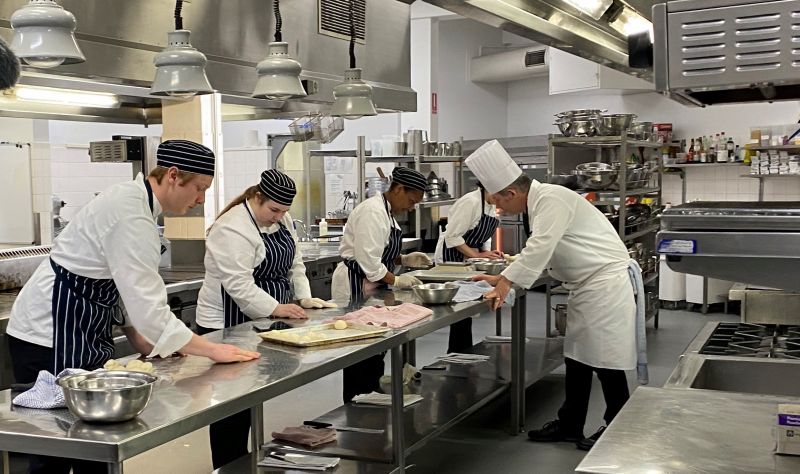 Colony 47 is working with TasTAFE to provide 400 meals a week to Tasmanians this month.
Colony 47 Youth Services Division Manager, Glen O'Keefe said the partnership was helping support vulnerable Tasmanians during the COVID-19 crisis.
"Colony 47 has developed a really positive relationship with Drysdale and it's delivering great results," Mr O'Keefe said.
"Around 80 meals a day are being prepared by Certificate II in Kitchen Operations students as part of their studies at Drysdale. Many of the students are quite young and looking for a career in hospitality and many of the meals are being distributed to young Tasmanians. It's great to see a group of predominantly young Tasmanians helping out other young Tasmanians and getting great skills and training at the same time.
A group of Certificate III in Commercial Cookery international students at Drysdale have also been involved in cooking meals for the project.
"Colony 47 distributes the meals through its facilities like Mara House and its youth accommodation site.
"We know that a good, balanced diet is really important to health outcomes and overall well-being and this is a really practical example of how we are partnering with other businesses and institutions in Tasmania to make a real difference."
TasTAFE CEO, Jenny Dodd said TasTAFE was proud to support a worthwhile cause while also providing real-life learning opportunities for students.
"One component of the Kitchen Operations and Cookery courses usually involves students preparing meals for the Drysdale café and restaurant. With the café and restaurant temporarily closed due to COVID 19 restrictions, students have still been able to gain practical experience in preparing meals and help disadvantaged people in our community in the process.
"This is a great example of some of the innovative solutions that our teams at TasTAFE have come up with to ensure learning has continued for our students during COVID-19," Ms Dodd said.
Drysdale restaurants and cafes will re-open the week of 10 August.