Innovative partnership with Glenview Community Services creates employment opportunities for TasTAFE students
23 December 2019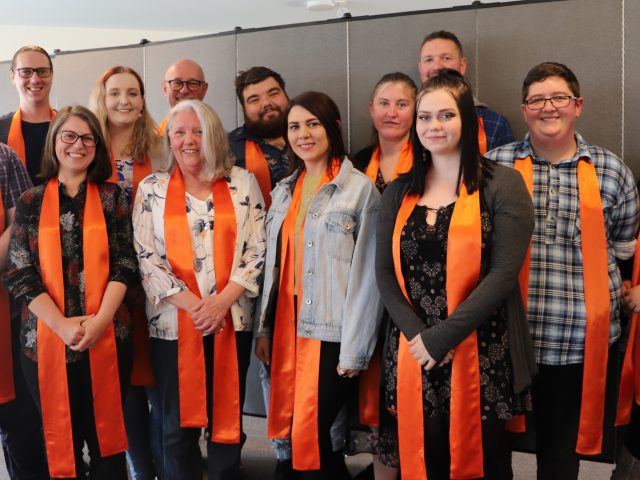 An innovative training program developed by TasTAFE and Glenview Community Services has provided accelerated learning for students and strong employment outcomes.
In 2019, TasTAFE and Glenview Community Services collaborated on a training model which has seen TasTAFE's Certificate III in Individual Support (Ageing, Home and Community) offered almost entirely on-site at Glenview's Glenorchy residential facility.
The course was embedded at Glenview Community Services Inc., Windsor Street for the duration of the 19 week course, apart from some simulated practical training at TasTAFE. The students learnt fundamental practical skills in WHS, manual handling, and activities of daily living such as personal care support.
The program has been a real success with eight of the 14 course graduates gaining employment at Glenview.
TasTAFE Health, Aged and Disability teachers, Kathy McDonald and Georgia Veis worked with Glenview management and staff to tailor a course that would meet their needs.
"There was lots of discussion and consultation about how the course would look and we still have those discussions so that we are constantly refining and reviewing what's worked well and what we can do to deliver ongoing meaningful learning."
Students spend one day a week on the floor at the residential facility buddied with a Glenview staff member to assist residents with day to day activities and support. On other days they are in a classroom on-site at Glenview and frequently participate in leisure activities held at the facility.
The model has proved very successful due to Glenview supporting TasTAFE by providing exposure to current best practices, industry experts and including students with onsite training such as new technology, palliative care and dementia.
"Not only are students getting valuable practical experience working in a residential facility, but we find that when it comes to doing the theory the uptake and the understanding from the students is accelerated because they are already applying it."
Students start off fully supervised by their buddy, but as the program progresses are expected to take gradually work in more autonomous manner.
Kathy and Georgia are there on the floor with the students to observe and support them, teaching and assessing as they go about the day to day care activities required. They have adjusted their working hours so that one of them is always there at 6am when students start their shift.
The program takes training to the next level, providing the students with a large amount of exposure to the industry and helping Glenview to meet its future skills needs.
TasTAFE CEO, Jenny Dodd said TasTAFE was proud to collaborate with Glenview Community Services to help meet its training needs.
"This collaboration allows our students to gain practical skills and experiences while embedded in a real life setting where they have the opportunity to work with clients.
"Our students are trained to Glenview's specific requirements, creating a skilled pipeline of potential employees for Glenview and the wider aged care industry.
"Health and aged care is one of Tasmania's fastest growing sectors and this partnership is a great example of how TasTAFE is working with industry to help meet Tasmania's skills needs," Ms Dodd said.
Visit the course pages on the TasTAFE website for more information about our Certificate III in Individual Support courses.