Gain the management skills you need to successfully deliver exceptional hospitality services across a range of venues and companies.
If you are a dedicated hospitality practitioner seeking to further your career and gain employment in a hospitality management role… look no further. This is the course for you!
This course will provide you with opportunities to develop a broad range of hospitality management/supervisory skills that will put you in good stead for coordinating hospitality operations across a range of venues.
As well as gaining practical skills training in food and beverage, housekeeping, front office and catering, you'll focus on developing specialist supervisory and management skills through hands-on learning activities. You'll learn how to lead and manage people and diversity in the workplace, as well as the recruitment, selection and induction of new staff. You'll also develop your knowledge and skills in monitoring staff performance and work operations, and how to develop and manage quality customer service practices.
As part of the course, you will spend time learning how to research and comply with regulatory requirements, manage physical assets, and establish and maintain a work health and safety system, as well as establishing and conducting business relationships and developing and implementing marketing strategies. You'll also learn how to manage finances within a budget – including preparing and monitoring budgets – as well as how to manage an operational plan, and how to develop and implement a business plan.
On successful completion of this course, you will be equipped with the skills and knowledge you need to seek supervisory or management roles across a range of hospitality venues.
Career opportunities
Recruitment Manager
Hotel Manager
Head Housekeeper
Front Office Manager
Finance Manager
Director of Sales
Food and Beverage Manager
We're here to help…
At TasTAFE, we understand that everyone's journey is different and sometimes you might need some extra support to achieve your study or career goals.
Whether you are at the very start of your training, returning to study after a long break, or looking to upskill in a specific area, we're here to help you to be successful in your chosen field of study, apprenticeship or traineeship.
Our student support services are available for all students, and aim to provide the support you need to make your learning experience just that little bit easier.
Find out more about what support is available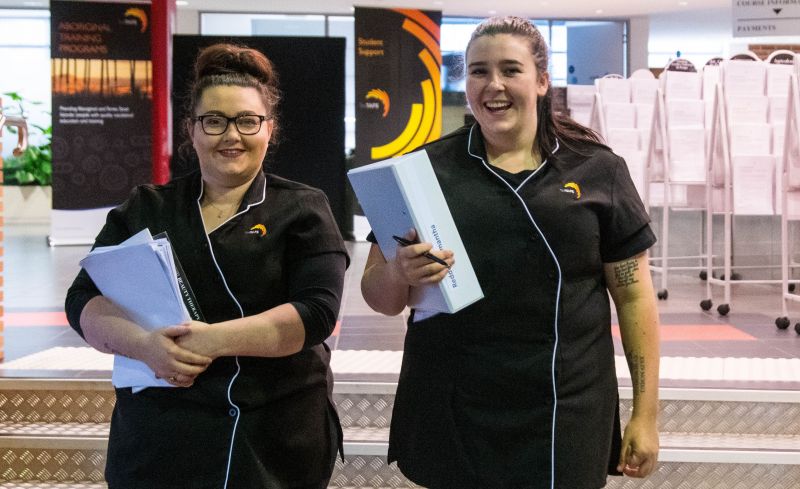 Contact us on 1300 655 307 or info@tastafe.tas.edu.au.
Career opportunities
Recruitment Manager
Hotel Manager
Head Housekeeper
Front Office Manager
Finance Manager
Director of Sales
Food and Beverage Manager