Make all the right noises and advance your career in the music industry by further developing your creative skills and knowledge to get qualified in Sound Production or Performance.
This Diploma-level qualification has two streams – Sound Production and Performance – and is ideal if you'd like to further develop your knowledge of the Music industry and are looking to refine your skills or gain a higher-level tertiary qualification in this area.
This course is ideal if you have considerable experience in the music industry and are now looking to develop specialist expertise in applying sound production principles in practical situations, such as setting up and operating PA systems or composing and producing music or sound recordings.
In the Performance stream, you will focus on the technical and theoretical aspects of music, performance, composition, recording, improvisation, business and management. You'll learn to provide instrumental or vocal tuition, develop techniques for arranging and composing music, and learn to compose music using electronic media. You'll also develop your technical skills and expand your musical repertoire by performing as a soloist and performing improvisation for a range of audiences.
In this stream, you will also develop the core skills you need to write about music, and how to originate and develop concepts, as well as manage copyright arrangements, provide freelance services and establish and maintain safe creative practice within the Music industry context. You'll also get lots of opportunities to record and produce individual projects, perform music within the general community and work on real or simulated industry experiences. In the Sound Production stream, you will learn how to compose music using electronic media, develop and implement sound plans and manage audio operations for outdoor events, as well as manage the operation of stage monitor systems and develop and implement sound designs. You'll also learn to edit sound, produce sound recordings and create a final sound balance, as well as compile music for soundtracks, undertake project work and extend your expertise in specialist creative fields.
Throughout the course, you will also get lots of opportunities to perform audio tasks within the general community, as well work on real and simulated industry experiences in our specialised studio environment, recording and producing individual projects and collaborating with others.
On successful completion of the Performance stream of this course, you will have the skills you need to advance your career in the Music industry in areas including recording, publishing, retail, radio, television and film, teaching, and of course, performance! You may even choose to continue on to a higher education qualification with a Bachelor of Contemporary Arts at university.
On successful completion of the Sound Production stream, you will have gained the advanced technical and management skills you need to progress your career in the Music industry, including potential roles as a Live Sound Engineer (music, corporate and theatre), Audio Visual Technician, Recording/Studio Engineer, Record Producer or Broadcast (TV/Radio/Podcast) Producer.
Career opportunities
SOUND PRODUCTION

Record Producer
Live Sound Engineer
Road Crew

PERFORMANCE

Composer
Music Teacher
Skilled Musician
We're here to help…
At TasTAFE, we understand that everyone's journey is different and sometimes you might need some extra support to achieve your study or career goals.
Whether you are at the very start of your training, returning to study after a long break, or looking to upskill in a specific area, we're here to help you to be successful in your chosen field of study, apprenticeship or traineeship.
Our student support services are available for all students, and aim to provide the support you need to make your learning experience just that little bit easier.
Find out more about what support is available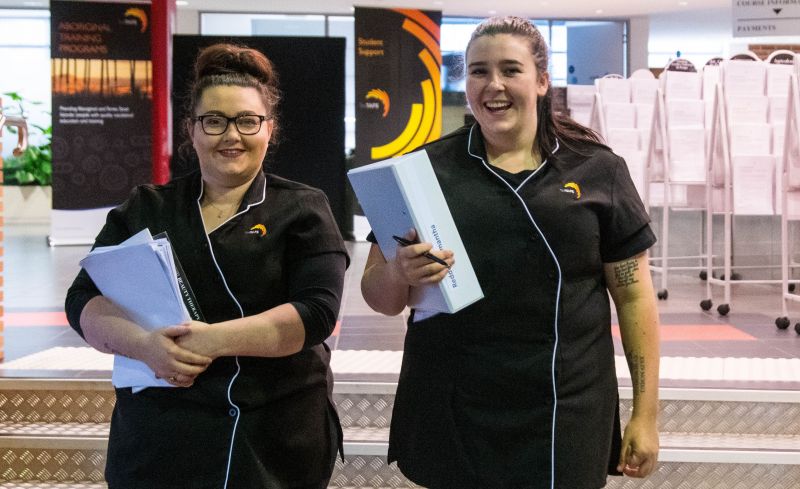 Contact us on 1300 655 307 or info@tastafe.tas.edu.au.
Career opportunities
SOUND PRODUCTION

Record Producer
Live Sound Engineer
Road Crew

PERFORMANCE

Composer
Music Teacher
Skilled Musician