If you want to take your career to the next level, progress your career and become a great leader, apply today in our Emerging Manager skill set, and take the first step to getting the skills you need for the job you want!
Suitable for either emerging or current leaders, this short course is designed to help you gain strong management skills within the Tourism, Hospitality, Travel and Event sectors.
To apply for this course, you must hold at a minimum a Certificate IV qualification, equivalent industry experience, or have previously completed any of our supervisory skill sets.
In this course you will focus on gaining the skills and knowledge you need for financial and people management, along with how to develop an effective marketing strategy.
You'll learn how to consult with colleagues and customers, and develop policies and procedures for quality service provision, as well as how to manage the delivery of high quality customer service. You will also gain the skills you need to draft and negotiate budgets, identify deviations, and manage the delivery of successful budgetary performance.
This course will also cover key skills and knowledge in identifying recruitment needs, and developing selection criteria, as well as processing and evaluating applications, selecting people according to their attitude, aptitude and fit to the position, and coordinating induction programs. You'll also learn how to monitor the day-to-day effectiveness of staff, and conduct structured performance appraisals and formal counselling sessions.
Throughout the course, you will also develop your skills in analysing internal and external business environment, and developing and evaluating marketing strategies and plans for products and services.
On successful completion of this course you will have strong management skills and knowledge across the Tourism, Hospitality, Travel and Event sectors.
We're here to help…
At TasTAFE, we understand that everyone's journey is different and sometimes you might need some extra support to achieve your study or career goals.
Whether you are at the very start of your training, returning to study after a long break, or looking to upskill in a specific area, we're here to help you to be successful in your chosen field of study, apprenticeship or traineeship.
Our student support services are available for all students, and aim to provide the support you need to make your learning experience just that little bit easier.
Find out more about what support is available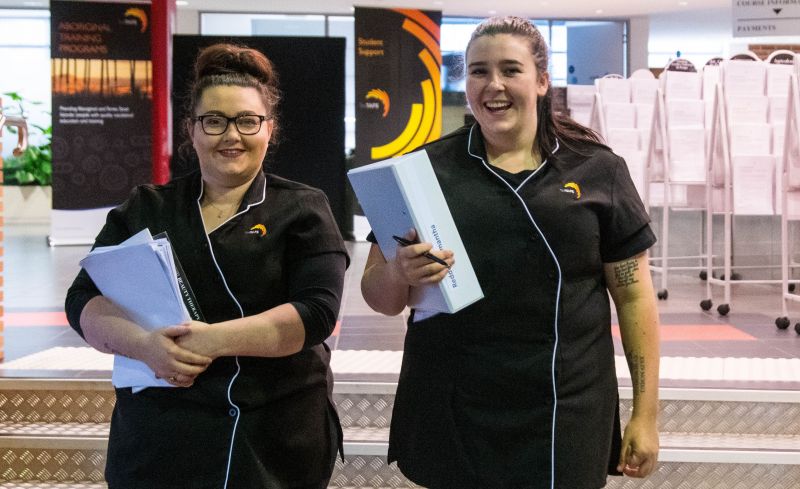 Contact us on 1300 655 307 or info@tastafe.tas.edu.au.